'Deeply shocked': PM Modi expresses solidarity with Israel amid ongoing war with Hamas
Israel has declared a "state of war" and swiftly initiated air strikes on the Gaza Strip. This action came in response to a surprise rocket attack carried out by the Palestinian militant group Hamas, which ominously proclaimed that this was only their "first strike."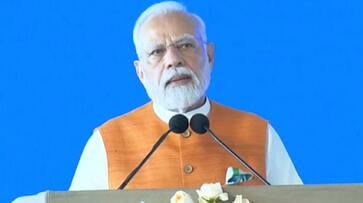 New Delhi: Prime Minister Narendra Modi on Saturday (Oct 7) expressed deep shock over the news of terrorist attacks in Israel. The Hamas attack has claimed the lives of 22 people so far. Extending support, PM Modi said that India stands in solidarity with Israel.
In a move prompted by a devastating attack by Hamas and Islamic Jihad, National Security Minister Itamar Ben-Gvir on Saturday declared a state of national emergency in Israel. The assault claimed the lives of at least 22 Israelis, leftover 500 people wounded, and even saw the capture of some civilians.
Taking to social media platform X, PM Modi tweeted, "Deeply shocked by the news of terrorist attacks in Israel. Our thoughts and prayers are with the innocent victims and their families. We stand in solidarity with Israel at this difficult hour."
Israeli Prime Minister Benjamin Netanyahu addressed the nation in a video statement, unequivocally stating that Israel was now at war. 
"We are at war, and we will win," PM Netanyahu said, emphasizing that the enemy would face an unprecedented cost for their actions. This escalation followed a series of rocket attacks and the infiltration of Israeli territory by Palestinian militants, prompting Israel's Defense Minister, Yoav Gallant, to declare that Palestinian militants had effectively launched a "war against the State of Israel."
 In a surprise attack claimed by the Islamist movement Hamas, Palestinian gunmen infiltrated areas of southern Israel, launching rocket barrages from the Gaza Strip on Saturday (Oct 7).
Also read: 'Israel in state of war': PM Benjamin Netanyahu's resolute response to Hamas attack | WATCH
Last Updated Oct 7, 2023, 5:18 PM IST