The Archies: Shah Rukh Khan applauds film's latest song 'Sunoh;' says "This is so quaint..."
Directed by Zoya Akhtar, 'The Archies' is an upcoming movie featuring Suhana Khan, daughter of Shah Rukh Khan, and a cast of other actors. The film is inspired by the American comic of the same title.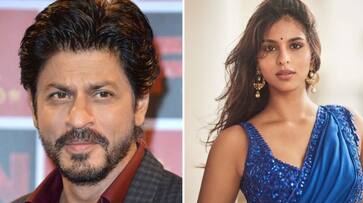 One of the most highly anticipated movies of the year, "The Archies" on Netflix, has just unveiled its first song, "Sunoh." The song features Dot (played by Aditi), Agastya Nanda, Khushi Kapoor, Mihir Ahuja, Suhana Khan, Vedang Raina, and Yuvraj Menda. "The Archies" is a coming-of-age musical film directed by Zoya Akhtar that follows the lives of a group of teenagers in a small town.
"Sunoh" is a song crafted by the talented duo of Ankur Tewari and The Islanders, with lyrics written by the legendary Javed Akhtar and the young and gifted Dot. The song is beautifully performed by Tejas Menon and Shivam Mahadevan. "Sunoh" serves as a gateway for viewers to dive into the captivating world of "The Archies," where the characters of the film are introduced.
Shah Rukh Khan, the renowned actor, took to social media to share his thoughts on the song. He posted the song on his Instagram and commented, "This is so quaint and beautiful the world of The Archies. Also my motivation line for today is 'Trading my shoes in for wheels under my feet'!" He also tagged director Zoya Akhtar and the entire cast of "The Archies." The legendary lyricist Javed Akhtar expressed his experience of writing "Sunoh" as a journey back in time to the rock and roll era of the 1960s. He said "Writing 'Sunoh' was like unlocking a time capsule of the 1960s' rock and roll era. It's a musical experience that bridges the past and present, celebrating the enduring essence of this iconic period through melody and lyrics. Being a part of 'The Archies' has allowed me to rediscover the magic of an era that has deeply impacted generations."
In her debut film Suhana Khan plays the character Veronica, whom she describes as someone with a magnetic personality. Suhana said, "She is unabashedly herself and she knows her worth. That's something I'm learning from her,"
As per the creators of the film, this 1960s-set movie delves into themes of friendship, freedom, love, heartbreak, and rebellion through the lives of iconic characters like Archie, Betty, Veronica, Jughead, Reggie, Ethel, and Dilton. It transports audiences to the fictional hilly town of Riverdale.
ALSO READ: Vela Movie: Shane Nigam, Sunny Wayne starrer to release on THIS date
Last Updated Oct 20, 2023, 5:27 PM IST