Ranbir Kapoor, Rashmika Mandanna's Animal first look OUT: Here's are 5 reasons to watch this Bollywood film
The long-awaited first look poster for Animal, starring Ranbir Kapoor, has been published. The intriguing poster reveals that Ranbir will be playing a previously unseen part in the film.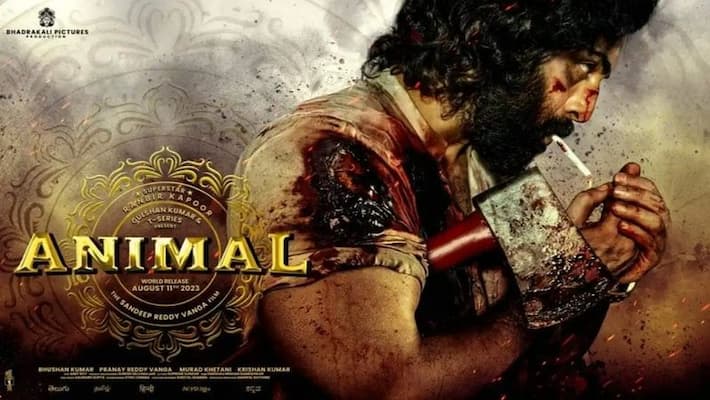 Animal, the much anticipated Ranbir Kapoor film, has finally received its official first-look poster. At 12 a.m. on New Year's Day, the creators unveiled the first look poster for the Sandeep Reddy Vanga-directed film.

The immensely enticing poster, which portrays leading man Ranbir Kapoor in his most aggressive persona yet, has startled and delighted both the actor's fans and moviegoers. From the initial look, it is evident that Animal will provide spectators with a never-before-seen experience.
Animal team members, including director Sandeep Reddy Vanga, senior actor Anil Kapoor, who plays a major part in the film, leading woman Rashmika Mandanna, and others, revealed the first look poster on the occasion of New Year's. 
"Presenting you the first look of ANIMAL. HAPPY NEW YEAR PEOPLE," wrote director Sandeep, as he shared the Animal first look."#RanbirKapoor releasing the #Animal within, soon! This is such a killer poster love it," reads Anil Kapoor's Instagram post. "Animal first look is here... So so excited for you all to see this look.." wrote Rashmika Mandanna, as she shared the first look poster on her Instagram story.
About Animal first look: 
The first look of Animal reveals that Ranbir Kapoor is finally ready to ditch his boy-next-door persona for the Sandeep Reddy Vanga-directed film. The highly anticipated production, described as a "violent" psychological thriller, will star the gifted actor in his first action-packed part. In the poster, Ranbir Kapoor's character is depicted smoking a cigarette while holding a blood-coated axe. The poster depicts the leading guy in his most aggressive avatar yet, with a big beard, neck-long hair, a major injury on his right arm, and blood-covered garments.
Here are 5 exciting things about ''Animal' you should know before watching the film.
Outstanding performances by actors:
Animal is a fantastic ensemble that includes superstars like Ranbir Kapoor, Anil Kapoor, and Triptii Dimri. Ranbir, who has repeatedly wowed audiences with his performances, is portraying a grey-shaded part in Sandeep Reddy Vanga's film. Anil Kapoor, the strong performer who plays the actor's father, joins him on the set. Triptii Dimri, the amazing actress who has been causing quite a stir on social media with her stunning performance in the Netflix film Qala, also appears in Animal. Rashmika Mandanna is said to be playing Ranbir Kapoor's love interest in the film, while Triptii plays a significant role.
Also Read: 'There is a right time for everything': Nayanthara on working in Bollywood
Complete Masala Movie 
Ranbir Kapoor starrer, the directors intend to develop a movie that appeals to people of all ages, despite its robust material. According to rumours, Animal is a comprehensive entertainment package designed to appeal to the sensibilities of the Indian populace, yet having the layers of a psychological thriller. Aside from that, the Sandeep Reddy Vanga-starrer will be released in five languages across India, including Hindi, Tamil, Malayalam, Telugu, and Kannada. This demonstrates the believers' trust in this initiative.
Powerful writing and story
Sandeep Reddy Vanga's last film, the Telugu smash Arjun Reddy, and its Hindi version Kabir Singh, were highly attacked for promoting sexism and physical violence in relationships. However, putting the negative parts aside, both films highlighted Sandeep Reddy's enormous potential as a screenplay and filmmaker. When it comes to Animal, people expect the filmmaker to create a well-written and skillfully directed film that is free of troublesome elements.
Father-son relationship
The first announcement trailer, which featured a stunning speech by main actor Ranbir Kapoor, established that the central concept of Animal is the complicated connection between a father and his son. Later, director Sandeep Reddy Vanga confirmed the news, adding that the film's theme will strike moviegoers' emotions. However, nothing is known about the roles played by Ranbir and Anil in the film thus far. We're looking forward to seeing Ranbir Kapoor and Anil Kapoor's friendship on the big screen.
Also Read: Tunisha Sharma death case: Did actress, Sheezan Khan have huge fight before her death?
Soundtrack
The excellent background soundtrack of the Animal announcement teaser has a big fan base. Sandeep Reddy Vanga's prior work demonstrates that he is a filmmaker with an amazing musical sensibility. Despite the conflicting reactions to its topic, Reddy's Bollywood debut film Kabir Singh was praised for its excellent soundtrack. So when the filmmaker reteams with T-Series, we can only expect a terrific soundtrack.
Last Updated Jan 1, 2023, 9:26 AM IST