Ganesh Chaturthi 2023: Shah Rukh Khan to Hrithik Roshan-10 B-Town celebs who bring Ganpati home every year
Ganesh Chaturthi 2023: Shah Rukh Khan, Salman Khan to Sara Ali Khan are Bollywood celebrities whose Ganpati celebrations create a frenzy among their fans. Little AbRam to Taimur are both particularly fond of Ganpati Bappa. Let's take a sneak peak into these Bollywood celebs lives whose Ganpati celebrations are most talked about --by Amrita Ghosh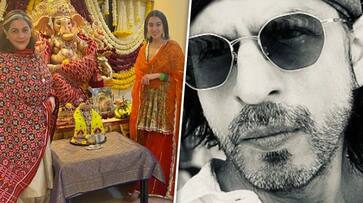 Salman Khan is known for his enthusiastic celebration of Ganesh Chaturthi. This vibrant festival, widely celebrated in India, particularly in Mumbai, has already seen the setup of exquisite Ganesha idols in pandals, eagerly awaiting their journey to people's homes. Let's take a look at other Bollywood celebrities who share this fervor for Ganesh Chaturthi.
Shilpa Shetty is another Bollywood icon who celebrates Ganesh Chaturthi with great zeal. Every year, Shilpa, along with her entire family, including her children, adorns their home to welcome Ganpati Bappa. They host the deity and bid him farewell with a grand ceremony.
Kareena Kapoor Khan and her family also partake in the festivities with enthusiasm. Even young Taimur Ali Khan shows his affection for Ganpati Bappa by crafting an eco-friendly Ganesha idol and celebrating the festival with his family, much like the Kapoor tradition.
Hrithik Roshan and his family are devoted to Ganesh Chaturthi as well. They bring an eco-friendly Ganpati Bappa home and joyously celebrate the festival, concluding with a grand visarjan ceremony.
Shah Rukh Khan, the Jawan star, celebrates various festivals at home, including Ganesh Chaturthi, with equal enthusiasm. AbRam Khan, especially, holds a fondness for Ganesh Chaturthi.
Ekta Kapoor, opens her doors to Lord Ganesha every year. Celebrities from both the film and television industries grace her home to seek blessings from Ganpati Bappa.
Kartik Aaryan, the Bollywood heartthrob, shares a profound admiration for Ganpati Bappa. He is often seen visiting various pandals during the festival, relishing the vibrant enthusiasm that surrounds it.
Sara Ali Khan also indulges in pandal hopping during Ganesh Chaturthi celebrations. Regardless of the controversies surrounding her, she celebrates every festival with unwavering enthusiasm.
Hema Malini continues to bring Ganpati Bappa into her home each year. Her daughters, Esha Deol and Ahana Deol, join in the festivities. It remains to be seen whether Sunny Deol and Bobby Deol will join them this time, setting aside their differences.
Riteish Deshmukh and his family come together under one roof to celebrate Ganesh Chaturthi with unmatched excitement. It's heartwarming to witness the entire family united during this festive occasion.
These Bollywood celebrities' devotion and enthusiasm for Ganesh Chaturthi showcase the rich cultural roots and unity in diversity that define India's festival celebrations.
ALSO READ: Mark Antony LEAKED: Vishal, SJ Suryah's film on Tamilrockers, Telegram and other torrent sites
Last Updated Sep 15, 2023, 11:02 AM IST