Ariana Grande-Dalton Gomez Divorce settlement: Privacy clauses and other clauses revealed; Read here
Ariana Grande and Dalton Gomez's divorce settlement includes strict privacy clauses, a $1.25 million payout, and property sale. Ariana may be living with Ethan Slater, while Dalton Gomez was seen with an actress in London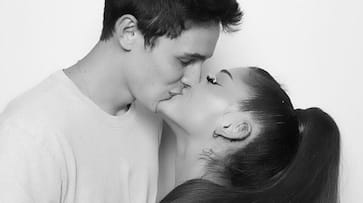 Ariana Grande and Dalton Gomez recently finalized their multimillion-dollar divorce in a Los Angeles court, demonstrating an amicable approach to their separation. The smooth process was facilitated by an iron-clad prenuptial agreement, which streamlined the divorce proceedings. Their official separation date was recorded as February 20 this year.
The divorce settlement includes strict privacy conditions. Both parties are prohibited from releasing or publishing any photographs, tapes, films, or related materials concerning their relationship. Furthermore, the agreement explicitly states that neither Gomez nor Grande can participate in interviews, write about, or collaborate on any form of book, article, interview, program, or publication about their relationship. The court documents specify that Gomez cannot "give any interview, write, appear in connection with, or assist or cooperate in the preparation or presentation of any book, article, interview, program, or other production or publication of any kind whatsoever concerning the other party."
As part of the settlement, Dalton Gomez will receive a tax-free payout of USD 1,250,000 instead of monthly spousal support payments. Ariana Grande will also cover USD 25,000 of Gomez's attorney fees. Additionally, their former shared residence, where the couple resided, will be sold. Both parties will contribute to paying off the USD 6 million mortgage on the property, and the proceeds will be divided once the sale is completed.
ALSO READ: Aamir Khan announces bollywood comeback with 'Sitaare Zameen Par'; Teases upcoming film with Sunny Deol
Ariana Grande and Dalton Gomez married in 2021, and reports of their divorce surfaced in July, with some sources suggesting that they had separated in January. No official confirmation or filing has been made by either party regarding the divorce. Meanwhile, Ethan Slater, who married his high school girlfriend Lilly Jay in 2018, recently filed for divorce from her last month. The 31-year-old Slater and Jay have a child together, their son, who was born in 2022.
Recent reports suggest that Ariana Grande has moved in with Ethan Slater, while Dalton Gomez was spotted kissing an actress in London.
Last Updated Oct 11, 2023, 9:44 AM IST