Are Taylor Swift, Travis Kelce officially dating? Kissing video sparks speculations among fans - Watch
Taylor Swift's Buenos Aires concert ends with a romantic embrace, fueling speculation about relationship with Travis Kelce on Eras Tour.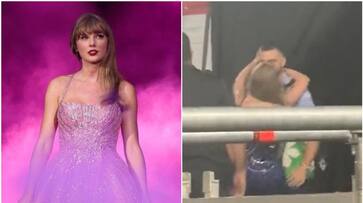 Taylor Swift started her Eras Tour this year with a big performance in March. She recently kicked off its international phase on November 9. Her latest show was in Buenos Aires, Argentina, at the Estadio River Plate on November 11. The fans were left surprised and delighted when Taylor shared a romantic moment with her rumored partner, Travis Kelce, an NFL star, who was waiting for her backstage.
In a video that is going viral on the internet now, Taylor is seen waving to her fans at the concert, and then she walks off the stage to Travis, who is smiling and waiting for her. They give each other a tight hug, share a warm embrace, and even share a sweet kiss. The couple sways in each other's arms for a few seconds before entering their private tent together.
Swifties, as Taylor Swift fans are known, couldn't contain their excitement and found the moment adorable. Some fans are speculating that this public display of affection means they are officially a couple. On social media giant X (previously twitter) one fan reacted "Awww she's definitely in LUV! I think he may be the ONE" another remarked "I guess we can assume they're an official couple now," 
During the concert, Taylor also gave a subtle shoutout to Travis Kelce by changing the lyrics of her song "Karma" to include a reference to the Chiefs, the team Travis plays for in the NFL. She sang. "Karma is the guy on the Chiefs coming straight home to me."
Overall, it seems like Taylor Swift and Travis Kelce are enjoying their time together, and fans are loving the romantic moments they're sharing.
ALSO READ: Did Ranveer Singh make 15-crore worth deal selling his apartments? Know details
Last Updated Nov 13, 2023, 12:57 PM IST