WATCH: Fans chanting 'Rohit Rohit' to lift Indian skipper's morale after WC loss wins hearts
The Ahmedabad crowd sprung to life after the conclusion of the ODI World Cup 2023 final match. When losing captain Rohit Sharma was walking back towards the dugout, the crowd lent support to the star player with his chants.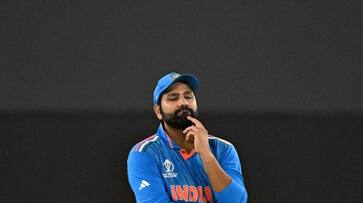 India's World Cup Final loss has become a heavy bearing on the Indian cricket team players, especially captain Rohit Sharma. Despite, doing so well in almost all the ODI World Cup 2023 matches, India fell short on the day it mattered the most. Most of the players were emotional right after the loss. 
As the broadcaster's camera panned at the Indian players, all one could see was disappointment, disbelief, and moist eyes. Rohit Sharma was no different on the ground as he left the pitch with moist eyes. It has been tough not only for the players but the fans as well to come to terms with the World Cup Final loss.
Also Read: Shubman Gill stays optimistic after World Cup final defeat, youngster promises 'this is not the end'
After all, the men in blue were coming into the important fixture on the back of a 10-matches winning streak. No team in history has won all the matches of the tournament but lost the final. With such a domination teams have only gone on to win the ultimate fixture as well. But the story remains different for the Indian team.
The Ahmedabad crowd which was less involved throughout the match lent support to Rohit Sharma while the Indian captain was walking back towards the dugout after shaking hands with the Australian players. 'Rohit Rohit' chants rung around the Narendra Modi Stadium.
Uncertainty prevails over the future of Rohit Sharma as well as Rahul Dravid. Indian coach Rahul Dravid's contract is up and the BCCI is likely to take a decision in the coming weeks. While Rohit Sharma's captaincy stint depends on the Indian opener himself. If he decides to step down, Hardik Pandya could take over as the whiteball captain.
Last Updated Nov 20, 2023, 6:16 PM IST