PM Modi consoles Shami in dressing room after heartbreaking World Cup title defeat; pic goes viral
Indian Prime Minister met Indian players in the dressing room after the World Cup title defeat against Australia on Sunday. He hugged and consoled Mohammed Shami who was emotional post the heartbreaking loss.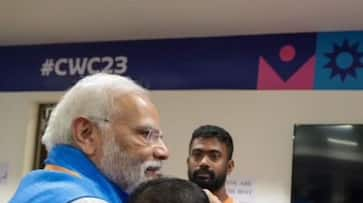 The conclusion of the ODI World Cup 2023 has been heartbreaking and frightening for the Indian cricket team and its fans. The players are not immune to emotions and various players from India as well as Australia showcased extreme emotions of both the coins after the match.
Indian players were sad and heartbroken after the defeat while Australian players were overjoyed with the World Cup title win. Mohammed Shami was emotional in the Indian dressing room after he put out a stellar performance throughout the ODI World Cup 2023 tournament.
Also Read: Ravindra Jadeja reveals PM Modi's special gesture after India's WC final defeat to Australia
Indian Prime Minister Narendra Modi visited the Indian dressing room after India's defeat on Sunday. When he arrived inside the locker room, the Indian players were sitting sad in their respective places. Prime Minister Modi as his nature is, was trying to motivate and cheer up the Indian cricket team.
That is when he also came face-to-face with Mohammed Shami. Prime Minister Narendra Modi was regularly tweeting about Shami's success in the ODI World Cup 2023 and in response even Shami was engaging with the Prime Minister and thanking him for the kind words and support.
A grim Mohammed Shami met Prime Minister Narendra Modi in the Indian dressing room. PM Modi looking at Shami gave him a hug and Mohammed Shami quickly slipped into the arms of the Prime Minister emotionally. The Indian fast bowler shared the picture on his Twitter (now X) account, which has gone viral.
Fans appreciate the gesture shown by the Indian Prime Minister Narendra Modi to lift the morale of the Indian players. The Prime Minister did the same thing during ISRO's Chandrayaan 2 mission. After the unsuccessful landing at the lunar surface, Narendra Modi hugged and consoled the then ISRO chief Dr. K Sivan who was very emotional and in tears.
Last Updated Nov 20, 2023, 5:02 PM IST