No saliva? Exclusive: If BCCI wants, SG ready to modify cricket balls in post-coronavirus future
Sanspareils Greenlands (SG), the company that provides cricket ball for all matches conducted by the BCCI in India, is ready to make changes in ball manufacturing in the post-coronavirus future if bowlers don't use saliva to shine the ball. In this exclusive interview with Asianet Newsable, SG marketing director Paras Anand speaks on the issue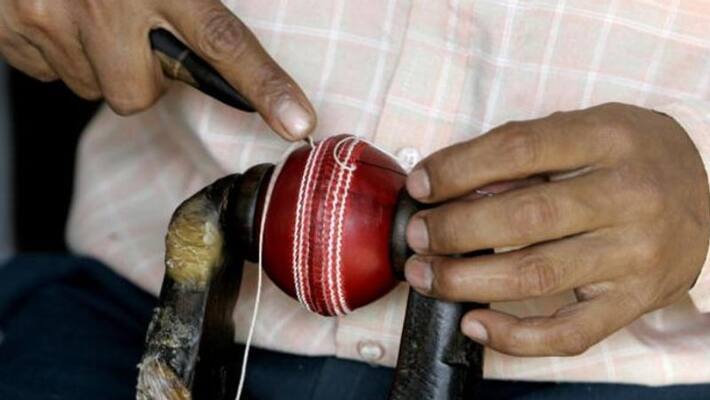 Bengaluru: When cricket resumes after the current health crisis due to the coronavirus (COVID-19) is over, it could be a whole new beginning for the bowlers.
To use or to not use saliva on the cricket balls has become a debatable subject in recent times. The players are divided and there is also a possibility of artificial substances replacing saliva and sweat to shine the ball.
Also read: Exclusive - Saqlain Mushtaq on Virat Kohli
Sanspareils Greenlands (SG), the Meerut-based company that manufacturers cricket balls for all matches conducted by the Board of Control for Cricket in India (BCCI) in India, says it is ready to do whatever the Indian board asks.
Also read: Virat Kohli, AB de Villiers pick India-South Africa XI
SG's marketing director Paras Anand, in an exclusive interview with Asianet Newsable, shared his views on the subject of using or not using saliva on cricket balls in post coronavirus scenario.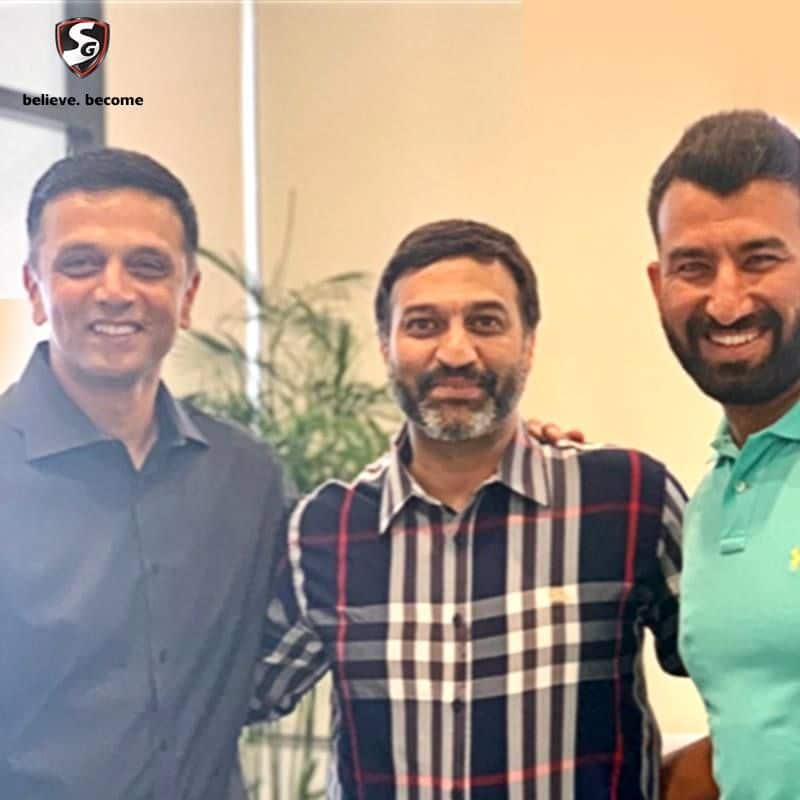 Paras Anand (centre) with Rahul Dravid and Cheteshwar Pujara
"First of all, it is not very clear as to what they want to do about it. The players too are divided," Paras told Asianet Newsable by phone from Meerut on Monday (April 27) when asked about the non-usage of saliva in future. Currently, all cricket matches have been suspended.
"If they continue using saliva, nothing changes (for us). There is also talk about bowlers being allowed to use artificial substances. Even if this gets a go ahead, then there is nothing to be changed from our end. It is now up to the technical committee (of the BCCI) which will come back to us and tell if they what any modifications with the manufacturing of the balls," Paras added.
Asked if there is any solution to play cricket matches without using saliva on the balls, he explained, "Currently there is no solution. With regards to the change, the governing body (ICC and BCCI) takes a call on what needs to be done. Right now it makes no sense for us to do any R&D (research and development) to come up with something about which we don't know."
According to Paras, SG is ready to do whatever changes are required to the manufacturing of the balls. "The safety and health of players is the priority. And that is why they are also worried about. Whatever the ICC and BCCI decide we can incorporate it. As a manufacturer we can't influence the decision-making."
Shining the ball is vital in cricket and if it is taken away, there is no way bowlers can achieve swing. "If you are not allowed to shine the ball, reverse swing will go away from game. It is important to shine the ball. In Test cricket, after 40-50 overs, if it is not a turning track, you want your fast bowlers to reverse swing the ball," Paras said.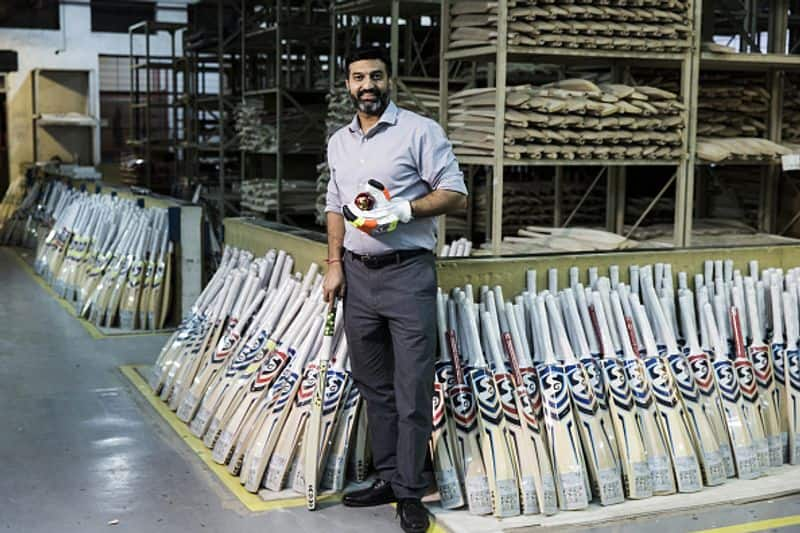 Paras admitted that the current lockdown in the country until May 3 has affected SG company "very badly". He put the sports industry's loss at 30%. However, he said the company is taking care of all the 1,5000 employees in these difficult times.
"Work is affected very badly. Overall sports business including us has lost 30% of the revenue. However, we are taking care of all our 1,500 employees, they are not affected. We have paid them full salaries for the month of March and will do the same for April as well. Our workers are not affected. It is our overall business which has taken a massive hit. Payments have completely stopped coming in, cash flow has gone into negative. These are challenging times, not only sports industry but every sector is struggling," he said.
Paras says the company, which was established in pre-independent India, is ready with plans if the current crisis doesn't end soon. "There is a two-case scenario that we are working on. Maybe in three months, everybody will forget what has happened and life will come back to normal. The other scenario is every business will have to adapt to changes, diversify, find ways of generating revenue if things don't become normal. There are certain things that we are contemplating on."
India's leading cricketers including KL Rahul, Cheteshwar Pujara use SG cricket equipment.
Last Updated Apr 27, 2020, 2:36 PM IST