Dhanashree Varma voices displeasure on Instagram over Yuzvendra Chahal's exclusion from India's Asia Cup squad
Chahal's exclusion from both the Asia Cup and last year's T20 World Cup squad has sparked discussions. Adding to the chatter, his wife Dhanashree Varma took to Instagram to express her discontent with the decision.
Yuzvendra Chahal, the leg spinner, finds himself absent from the roster of the Indian cricket team chosen for the Asia Cup 2023. On the other hand, Kuldeep Yadav, Ravindra Jadeja, and Axar Patel have managed to secure their positions in this squad. Chahal has consistently been disregarded in the context of Team India. Similarly, in the previous year, he was also selected as part of the T20 World Cup squad, although he wasn't granted an opportunity to participate in any of the matches. Presently, his spouse, Dhanashree Varma, is deeply upset regarding his omission from the Asia Cup lineup. Dhanashree has utilised Instagram as a platform to vent her frustration.
"Now I have started to question this on a serious note. If being super submissive & introvert can be harmful for your work growth? Or do we all have to be an extrovert & street smart savvy to grow in life?" reads Verma's Instagram story. "In the end, it is between you and your God. And fortunately, the world is with you. Thankful. God is great," she continued in another Instagram story.
Also Read: Controversy surrounds Kumar Dharmasena following emergence of inappropriate video on social media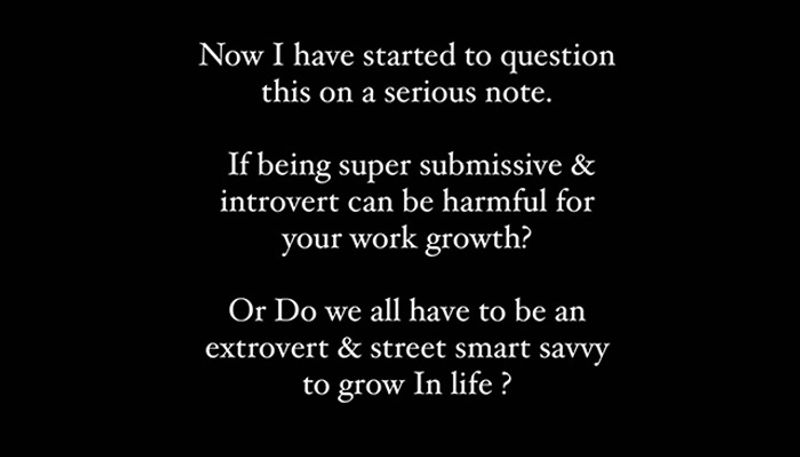 Following the noticeable omission of Yuzvendra Chahal from the Asia Cup 2023 team, cricket enthusiasts have taken to social media to passionately voice their disillusionment. In the midst of this, Dhanashree Verma, Chahal's wife, utilised her official Instagram platform to share an enigmatic post on her Story. Online users are now speculating that the content of the cricketer's spouse's post is undeniably aimed at the BCCI's choice to leave out the leg spinner from the Asia Cup squad.
Also Read: ICC Men's World Cup 2023: Ticket sale dates announced; All you need to know
Last Updated Aug 25, 2023, 7:11 PM IST