Shubman Gill's spectacular 95m six against Netherlands stuns Rohit Sharma (WATCH)
Shubman Gill showcased his power hitting skills by smashing a remarkable 95-meter six, leaving not only the opposition but also his teammate Rohit Sharma in awe.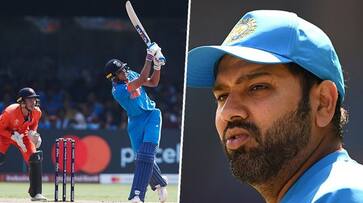 In the World Cup 2023 match against the Netherlands, Shubman Gill's impressive 95m six had Rohit Sharma in disbelief. Facing off against the Netherlands in India's final league match of the Cricket World Cup 2023, the opening duo of Shubman Gill and Rohit Sharma set the tone for a formidable start, displaying an aggressive approach from the outset. Opting to bat first after winning the toss, India aimed to post a massive total on the scoreboard, and the opening partnership was determined to make it happen. However, when Gill launched the ball to the roof of Bengaluru's M Chinnaswamy Stadium in the third over, even Rohit, stationed at the non-striker's end, couldn't help but be astonished.
On the last delivery of the third over, Gill smashed a colossal six off Netherlands' Aryan Dutt, sending the ball straight down the ground. Rohit, acknowledging Gill's remarkable shot, couldn't hide his admiration, and even Gill had a smile on his face.
With the Netherlands already out of contention for a spot in the semi-finals, India, having won eight consecutive matches, was determined to secure its ninth World Cup victory in a stylish manner. Both teams fielded an unchanged XI for the match.
After winning the toss, Rohit explained, "We are gonna have a bat. No particular reason. Whether we have batted first or bowled first, we have done extremely well. Another opportunity to play well today and tick all the boxes. Extremely happy with how we have played in this tournament. Hats off to the guys who have stood up at different times and taken the responsibility. We have the same team."
Netherlands captain Scott Edwards also expressed that he would have chosen to bat first. "We would have batted as well. Looks like a pretty good wicket, but good ground for chasing. We have been pretty good overall, there's games we've been blown out. We've had two wins. Looking to give a good performance today, give ourselves a chance. This is going to be the biggest crowd we've had for the tournament, looking forward to the atmosphere that's going to be here. India has been flawless; we have to be at our best. A WC in India is as big as it gets. To win those games, it's been big for us. Same side for us," he said.
Also Read: England's tour of West Indies: Six players from the World Cup squad retained by England
Last Updated Nov 12, 2023, 3:56 PM IST