ODI World Cup 2023: Ross Taylor predicts India as favourites for the title on home turf
Former New Zealand cricketer Ross Taylor shares his insights on the ongoing Cricket World Cup, highlighting India's strong performances and home advantage.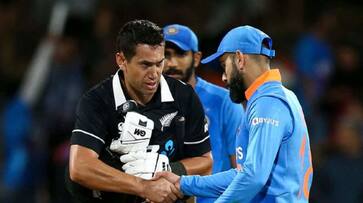 Ross Taylor, the former New Zealand batsman, believes that India, when playing on their home turf, are a formidable force and are strong contenders to clinch the World Cup. He expressed this sentiment as India has commenced their World Cup journey on an impressive note, securing victories in all four of their matches thus far. The hosts are set to face New Zealand, the sole undefeated team in the tournament, in a highly anticipated showdown in Dharmsala this Sunday.
In his ICC column, Taylor expressed his opinion, stating, "India, when playing in their home conditions, exhibit a different level of performance, and their strong start makes them the favorites to win the competition at this juncture, irrespective of the outcome in Dharmsala on Sunday."
India's batting and bowling units have been in remarkable synchronisation. With notable performances from skipper Rohit Sharma and Virat Kohli, complemented by effective bowling by Jasprit Bumrah, Kuldeep Yadav, and Ravindra Jadeja, India has been firing on all cylinders.
Taylor remarked, "Jasprit Bumrah has admirably led the bowling attack, while Kuldeep Yadav and Ravindra Jadeja have been delivering impressive performances with the ball. Their top three batsmen have been consistently excellent. Although you can't expect the top three to score runs in every match, they seem to have found a promising combination at the four and five positions with Shreyas Iyer and KL Rahul."
While India is sure to enjoy immense support from their fans, Taylor believes that the enthusiastic crowd will also bring out the best in the New Zealand team. He commented, "New Zealand will need to secure early wickets to put pressure on India's middle-order. The crowd will undoubtedly have an impact, but I anticipate that New Zealand will thrive in such an atmosphere. Every time you play here, you're faced with full stands and know that you're up against it. The crowd is vocal but fair."
It's worth noting that India has a history of struggling against New Zealand in ICC events, with the Men in Blue unable to overcome the Kiwis for more than two decades. Taylor offered his perspective on this, saying, "I'm not entirely certain why New Zealand keeps getting the better of India in these tournaments, but if you speak to many Indian supporters, New Zealand is often their second favorite team. Perhaps that plays a role; who knows?"
Switching gears to New Zealand's performance, Taylor commended the team's clinical display, even in the absence of captain Kane Williamson and fast bowler Tim Southee. He said, "I've been highly impressed with how they've fared thus far. They've played exceptionally well, with different players stepping up at various stages. Despite the injuries to Tim Southee and Kane Williamson, others who have come in, such as Will Young and Rachin Ravindra, have risen to the occasion."
Ravindra, in particular, has made the most of his opportunity, marking his World Cup debut with a century and subsequent half-century. Taylor reflected on this unexpected development, stating, "If you had said a couple of weeks before the tournament that Rachin would be in the starting lineup, I don't think anyone would have predicted it. He earned his place through strong performances in warm-up games, and even then, people may not have anticipated him batting as high up the order as he has. However, he has seized his chance and appears poised to become a crucial part of the New Zealand team, not only in this tournament but also in the years to come."
Also Read: Injury concerns loom as Suryakumar Yadav and Ishan Kishan face mishaps ahead of New Zealand showdown
Last Updated Oct 22, 2023, 12:26 PM IST