ODI World Cup 2023: Jos Buttler admits tough road ahead for England after record loss to South Africa
Jos Buttler, the captain of the England cricket team, faces a challenging path in the World Cup 2023 following a historic 229-run loss to South Africa, marking England's most significant defeat in ODI history.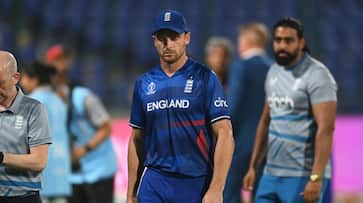 England's captain, Jos Buttler, faced the grim reality of their World Cup journey after a crushing 229-run loss to South Africa – the largest margin of defeat in England's ODI history. The reigning champions now find themselves in a precarious race to secure a spot in the tournament's semi-finals. South Africa set a monumental target of 400 runs, and despite England's best efforts, they were bundled out for a mere 170, their last batsman unable to participate due to injury.
Buttler expressed his disappointment, conceding, "It is going to be incredibly difficult. We have not left ourselves any margin from this point on. But we will keep the belief." He emphasised the challenging road ahead and the need to maintain their determination.
South Africa's explosive scoring, especially in the final 10 overs, proved too much for England to overcome. Buttler recognised the daunting task of chasing down such a colossal total and the pivotal role played by the sixth-wicket partnership between Heinrich Klaasen and Marco Jansen.
Hindsight led to contemplation of the decision to field first, as England's batting struggles when chasing continued. Buttler defended the choice made at the time but acknowledged that batting first might have been a more suitable option.
The captain also highlighted the unsettling feeling within the team when crucial dismissals, such as Joe Root's caught at leg-slip, occur. Moreover, he revealed that Adil Rashid had been battling illness due to the heat and humidity, impacting his performance. Reece Topley's finger injury added to England's woes.
Despite a contentious celebration after scoring a century, Buttler emphasised that there were no ill feelings, as Heinrich Klaasen promptly apologised for his actions. In the face of adversity, Buttler maintained his belief in the team's potential to turn their fortunes around.
Also Read: ODI World Cup 2023: Ross Taylor predicts India as favourites for the title on home turf
Last Updated Oct 22, 2023, 1:45 PM IST