ODI World Cup 2023: Injured Sri Lanka skipper Dasun Shanaka has been ruled out of World Cup
In a significant twist of fate, Sri Lanka's hopes in the ongoing ICC World Cup have been dealt a blow as their ODI captain, Dasun Shanaka, is forced to bow out due to a debilitating thigh injury.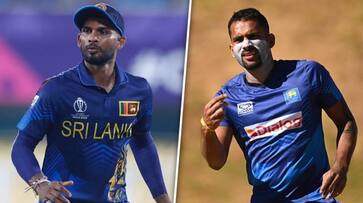 The ongoing ICC World Cup in India has taken an unfortunate turn for Sri Lanka as their ODI skipper, Dasun Shanaka, has been forced to withdraw from the tournament due to a debilitating thigh injury. This injury comes at a crucial time, adding to the challenges faced by the Sri Lankan cricket team, who are currently among the four teams yet to secure a victory in the competition.
The severity of Shanaka's right thigh muscle injury, sustained during Sri Lanka's match against Pakistan on the 10th of October, has compelled the team management to make a tough decision. The injury is projected to take three weeks to heal, necessitating his exclusion from the remainder of the World Cup. Consequently, Chamika Karunaratne, who was on standby, has been drafted into the squad as a replacement.
Karunaratne, a seasoned player with 23 ODIs under his belt, steps into the limelight, ready to contribute to the Sri Lankan squad. This unexpected turn of events opens up a new avenue for him to showcase his talent and make a significant impact in the upcoming matches.
In the wake of Shanaka's absence, Kusal Mendis, the designated vice-captain and a key performer with the bat for Sri Lanka, is set to shoulder the responsibility of leading the team. The change in leadership brings about a shift in dynamics within the team, prompting players to adapt and rally together in the face of adversity.
For Karunaratne, this represents an invaluable opportunity to reignite his ODI career. Having not featured in an ODI for Sri Lanka since March earlier this year, he is eager to seize this chance to make a compelling comeback and contribute to the team's performance in the World Cup. The cricketing world watches with anticipation to see how Sri Lanka navigates this challenging phase and how Karunaratne steps up to the plate in this high-stakes tournament.
Also Read: ODI World Cup 2023: Rohit Sharma's stellar performance propels India to 8 out of 8 WC wins against Pakistan
Last Updated Oct 15, 2023, 12:25 PM IST