ODI World Cup 2023, India vs Pakistan: Key player matchups to watch at the Narendra Modi Stadium
As the epic clash between India and Pakistan unfolds, promising intense battles and electrifying cricket. In this article, we delve into the pivotal player matchups that are expected to shape this high-stakes encounter. From star batsmen to potent bowlers, every duel on the pitch holds the key to determining the fate of this exciting showdown.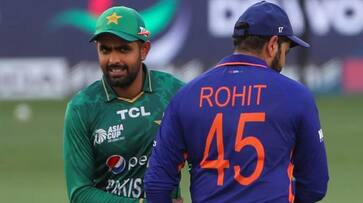 Anticipation is at its peak as India prepares to face off against Pakistan in the Cricket World Cup 2023 at Ahmedabad. The riveting battles between these cricketing giants have always been a highlight, captivating fans with intense key player matchups. The last encounter saw India triumph over Pakistan in the Asia Cup, showcasing dominance across all aspects of the game, sealing a victory by a massive 228 runs. As the much-anticipated India vs Pakistan match unfolds, we turn our focus towards crucial player battles that could determine the outcome of this thrilling encounter.
Babar Azam vs Kuldeep Yadav
Captain of the Pakistan cricket team, Babar Azam, has engaged in an intriguing battle with India's Kuldeep Yadav over the years. Azam has faced 34 deliveries from Kuldeep in ODIs, falling victim to his skill twice. The struggle is evident, with Azam managing only 18 runs at a strike rate of 52.9 against the Indian wrist-spinner. With Azam's recent performance in the World Cup 2023 campaign below par, Kuldeep Yadav has a chance to further enhance his record against the Pakistani captain.
Virat Kohli vs Shaheen Afridi
Shaheen Afridi's initial performance in this World Cup has been subdued, with only a couple of wickets in the two games Pakistan has played so far. However, the clash against India provides him an opportunity to turn the tide. His matchup against Virat Kohli promises to be a compelling duel. Afridi has bowled 24 deliveries to Kohli in ODIs, dismissing him once while conceding 21 runs. Although Kohli hasn't faced major struggles against Afridi, this battle between a quality bowler and an exceptional batsman is expected to be fiercely competitive.
Imam-ul-Haq vs Jasprit Bumrah
Imam-ul-Haq is facing a tough time in the World Cup, struggling to make a mark with scores of 15 and 12 in the two matches so far. His next challenge comes in the form of Jasprit Bumrah. The Indian pacer has bowled 21 deliveries to Imam-ul-Haq in ODIs, claiming his wicket once while allowing only 12 runs. Bumrah not only keeps Imam quiet but also consistently creates chances to dismiss him. Imam-ul-Haq needs to devise effective strategies to counter Bumrah's threat and contribute significantly in this match.
Rohit Sharma vs Shaheen Afridi
The battle between India's captain, Rohit Sharma, and Pakistan's Shaheen Afridi promises excitement. Rohit Sharma, riding high on confidence after a match-winning century against Afghanistan, faces a challenge against the left-arm pace of Shaheen Afridi. Rohit has faced 42 deliveries from Afridi in ODIs, scoring 33 runs and being dismissed once. He must exercise caution against Afridi's prowess as a new-ball bowler to ensure a strong performance.
Mohammad Rizwan vs Kuldeep Yadav
Mohammad Rizwan has never encountered Kuldeep Yadav in ODIs, yet his vulnerability against wrist-spin is apparent. He averages only 29 against wrist-spinners in ODIs, with a strike rate of 80.27. Kuldeep Yadav's exceptional form and prowess against right-handed batters suggest he could pose a significant challenge to Rizwan. Watch out for how Rizwan navigates Kuldeep's skills in this exciting encounter.
Also Read: ODI World Cup 2023, India vs Pakistan: 'There's no clear favourite or underdog' says Rohit Sharma
Last Updated Oct 14, 2023, 2:38 PM IST