ODI World Cup 2023: India vs Netherlands warm-up match abandoned due to rain in Thiruvananthapuram
The highly anticipated warm-up match between India and the Netherlands in preparation for the Cricket World Cup 2023 had to be abandoned due to persistent rain in Thiruvananthapuram.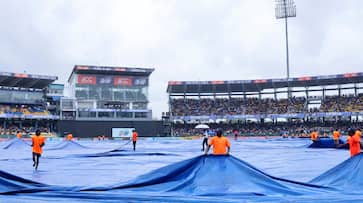 The India vs Netherlands warm-up match faced an unfortunate twist as the contest had to be abandoned due to persistent rain in Thiruvananthapuram. This unexpected turn of events meant that the Indian cricket team missed out on valuable warm-up games before their much-anticipated clash with Australia on October 8, 2023, in Chennai.
For the Netherlands, the weather woes have also cast a shadow on their preparations as they are set to kick off their World Cup campaign against Pakistan on October 6, 2023, in Hyderabad. Despite a brief respite when the rain temporarily cleared for about an hour, the weather proved relentless, leaving match officials with no choice but to abandon the game, disappointing both teams and cricket fans alike.
Also Read: Asian Games 2023: Sai Kishore in tears during national anthem goes viral; Dinesh Karthik responds (WATCH)
Regrettably, the prevailing weather conditions have triumphed over the game of cricket once more in Thiruvananthapuram. Continuous rainfall has compelled the cancellation of today's warm-up match, with not a single delivery bowled. The tournament's commencement is right around the corner, with the 2019 finalists set to showcase their skills at the Narendra Modi Stadium on the 5th. We invite you to join us for all the exciting action. Until then, cheers and farewell!
Last Updated Oct 3, 2023, 5:17 PM IST