ODI World Cup 2023: From Jadeja to Bumrah - sloppy fielding costs India, New Zealand set for big total
In the thrilling encounter of ODI World Cup 2023, India's fielding woes persisted as they faced New Zealand. Crucial fielding errors, including an uncharacteristic drop by Ravindra Jadeja and a missed catch by KL Rahul, have dramatically shifted the momentum in favour of the Kiwi side.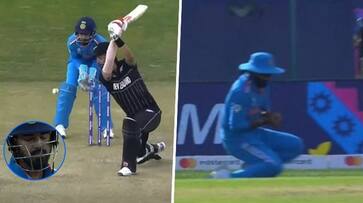 In the ongoing ODI World Cup 2023, the fielding concerns plaguing India persist, and the consequences were evident in the match against New Zealand. A couple of crucial fielding lapses, featuring Ravindra Jadeja and KL Rahul, have tilted the balance in favor of the Kiwi side, as they look poised to post an imposing total in the picturesque setting of Dharamsala.
The early stages of the game saw a pivotal moment when Ravindra Jadeja, known for his exceptional fielding skills, put down a chance to dismiss the dangerous Rachin Ravindra. Such lapses are rare in Jadeja's standards, and this missed opportunity has provided New Zealand with the opportunity to build a substantial innings.
Adding to India's fielding woes, KL Rahul, typically a safe pair of hands behind the stumps, missed a crucial catch, this time dropping Daryl Mitchell. Next it was Jasprit Bumrah who dropped a sitter at long on, giving Daryl Mitchell another opportunity. This lapse in concentration has further emboldened New Zealand's batting lineup, granting them the momentum required to aim for a formidable total.
As the game unfolds in Dharamsala, it is becoming increasingly clear that India's fielding woes have given their opponents an upper hand. New Zealand is now in a commanding position, and the prospect of a substantial total looms large, posing a challenging task for the Indian side in their pursuit of victory.
Also Read: ODI World Cup 2023: From Bengaluru to Wellington - Rachin Ravindra's family tree and cricketing journey
Last Updated Oct 22, 2023, 4:38 PM IST