Kane Williamson navigating laughter and technical glitches during the press conference in Mumbai
New Zealand captain Kane Williamson showcased his wit and composure amidst chaos during a Cricket World Cup press conference at Mumbai's Wankhede Stadium.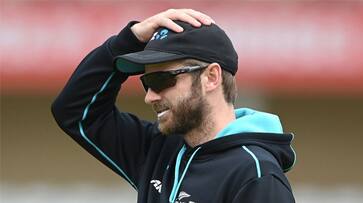 In the lead-up to the Cricket World Cup semi-final clash between New Zealand and unbeaten hosts India, captain Kane Williamson exhibited his composure not only on the cricket pitch but also in navigating a tumultuous start to the pre-match press conference at Mumbai's Wankhede Stadium on Tuesday. Faced with a barrage of questions from numerous reporters, the session took an unexpected turn when a reference to the first recorded ascent of Mount Everest, made by New Zealand's Edmund Hillary and Sherpa Tenzing Norgay in 1953, sparked laughter among the audience.
A reporter began, "On May 29, 1953, about 70 years back..." but before he could finish, Williamson, born in 1990, humorously interjected with "I remember," eliciting a jovial response from the gathered journalists. The press conference encountered further challenges as screeching microphone feedback interrupted proceedings, followed by technical issues.
During the pause, Williamson, familiar with the challenges of both cricket and press conferences, engaged in light banter by conducting a mic check. Despite the interruptions, the New Zealand captain eventually addressed a question comparing the ascent of Everest to the formidable task his team faces against India, known for their flawless performance in the round-robin stage.
In a display of good humour and adaptability, Williamson remarked, "Hello mic check, mic check, mic check. I think I know the question, I'll give the answer shortly. It might be the only question, I'll answer it five different ways." The incident added a lighthearted touch to the pre-match build-up, showcasing Williamson's ability to handle both serious cricket discussions and unexpected disruptions with ease.
Also Read: Behind the Scenes: Rohit Sharma unveils team India's offbeat rituals ahead of ODI World Cup semifinal
Last Updated Nov 14, 2023, 9:11 PM IST