Australian team gets traditional welcome in Ahmedabad ahead of WC final against India (WATCH)
Cricket enthusiasts brace for an epic showdown as India and Australia gear up for the ICC World Cup final at Ahmedabad's Narendra Modi Stadium on November 19, 2023. Australia's triumph over South Africa and India's commanding victory against New Zealand in the semi-finals have set the stage for a riveting battle between these cricketing titans.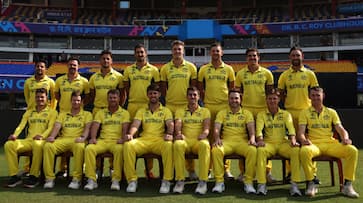 Australia's cricket squad has officially touched down in Ahmedabad, gearing up for the highly anticipated ICC World Cup final scheduled for November 19, 2023, at the illustrious Narendra Modi Stadium. The Australian team secured their place in the final after a gripping encounter against South Africa, demonstrating their mettle and determination. On the other side of the spectrum, India clinched a convincing victory over New Zealand in the semi-final clash held at the Wankhede Stadium, winning by an impressive margin of 70 runs.
As the cricketing world awaits this monumental showdown between India and Australia, the air is thick with anticipation, and fans are eager to witness the clash of titans on the grand stage. The Narendra Modi Stadium, known for its electrifying atmosphere, is set to be the battleground where these two cricketing giants will vie for the prestigious World Cup title.
Australia, with their renowned cricketing prowess, is not a team to be taken lightly. Their journey to the final has been marked by resilience and skill, as evidenced by their triumph over South Africa. Meanwhile, India, the undefeated team in the tournament, has showcased remarkable form and strategic brilliance, particularly in their semi-final triumph against New Zealand.
Cricket enthusiasts around the globe are buzzing with excitement as they anticipate the face-off between these two cricketing powerhouses. The stage is set, and all eyes are on Ahmedabad as the cricketing world braces itself for a final that promises high-octane action, nerve-wracking moments, and a display of exceptional talent from both sides. The clash between India and Australia is not just a game; it's a cricketing spectacle that captivates hearts and ignites the spirit of competition.
Also Read: India vs Australia - History in ICC ODI World Cup battles
Last Updated Nov 18, 2023, 3:11 PM IST