Australian club bowler Gareth Morgan's surreal feat: Six wickets in six balls leaves cricket fans stumped!
In a breathtaking display of cricketing prowess, Australian club cricketer Gareth Morgan engineered an astonishing comeback, taking six wickets in the final over to secure victory in a one-day game over the weekend.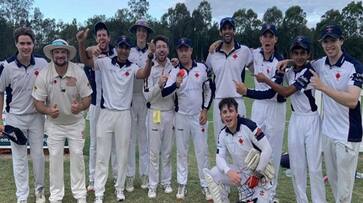 In a stunning turn of events, an Australian club cricketer orchestrated a remarkable victory by taking six wickets in the final over of a one-day game over the weekend, describing the rare achievement as "surreal." Facing almost certain defeat in the Gold Coast's Premier League Division 3, Mudgeeraba captain Gareth Morgan made a bold decision to bowl the last six balls himself. With Surfers Paradise needing five runs to win and having six wickets in hand, the opposition dramatically collapsed. Morgan, in an incredible display of skill, first removed opener Jake Garland for 65 and then dismissed the next five batters, all for golden ducks.
Reflecting on the extraordinary turn of events, Morgan shared with the Gold Coast Bulletin, "It is funny; the umpire said to me at the start of the over that I needed to take a hat-trick or something to win the game." His exploits gained national attention, and Morgan emphasized the "surreal" nature of the situation in an interview with national broadcaster ABC.
After achieving a hat-trick, Morgan expressed his determination not to let the game slip away. The final two dismissals were bowled, adding to the intensity of the unexpected victory. The first four dismissals were all caught, making this unprecedented feat even more exceptional.
This feat by Morgan surpassed the commonly known record of five wickets in an over in professional cricket, achieved by players like Neil Wagner, Al-Amin Hossain, and Abhimanyu Mithun, according to ABC.
Also Read: Cricket Australia unveils WC team of the tournament, Virat Kohli leads the way with four Indian stars
Last Updated Nov 13, 2023, 3:58 PM IST