Coronavirus outbreak: South Africa cricketers in self-isolation after returning from India
South Africa cricketers will not venture out of their homes for 14 days after they were advised to be self-isolated due to coronavirus (COVID-19) outbreak. They returned from India after the ODI series was cancelled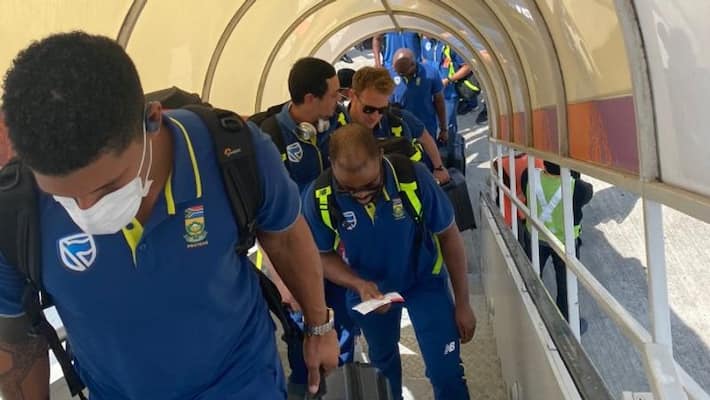 Johannesburg: South Africa cricketers, who returned from India after their ODI series was cancelled due to coronavirus (COVID-19) fears, have been advised to go into self-isolation for a period of 14 days.
Due to coronavirus outbreak, the Board of Control for Cricket in India (BCCI) cancelled the three-ODI rubber against South Africa. The opening game was washed out in Dharamsala but the following two games in Lucknow and Kolkata were called off.
Also read: 'Lessons from Rahul Dravid to fight coronavirus'
South Africa players returned home on Wednesday (March 18).
"CSA (Cricket South Africa) had engaged in a risk assessment before the tour," said Dr Shuaib Manjra, Cricket South Africa's medical officer, was quoted as saying in the media.
"We deemed the risk to be very low. While on tour the world became a different place and we had to take cognisance of the fact that there was a change in the global environment," he added.
Also read: Virat Kohli's message on coronavirus
Dr Manjra revealed that the players have been asked to self-isolate and social-distance themselves.
"We've educated the players about the disease. We've recommended that all players self-isolate and social-distance themselves for a minimum of 14 days to protect people around them and their communities," he said.
Talking about the return journey from India, Dr Manjra said, "Some of the players wore masks while we were travelling. Others decided not to wear masks that was up to them. We were pretty isolated during travel and largely immunised from the outside world."
Many sports events including the 13th edition of the Indian Premier League (IPL) have been either cancelled or postponed. IPL 2020 has been deferred till April 15.
Last Updated Mar 18, 2020, 3:21 PM IST