Australia lift 6th WC title: Deep dive into how Cummins & Co. shattered India's dream silencing a billion fans
India's thundering juggernaut at the ODI World Cup 2023 came to a screeching halt in an anti-climactic finish as Australia denied a golden generation of Indian cricketers the silverware it so desperately craved by lifting an unprecedented sixth title.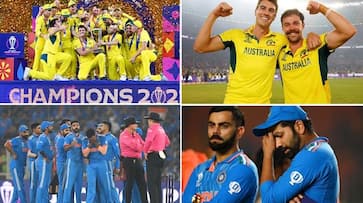 Rohit Sharma-led India faced a comprehensive defeat in the ODI World Cup 2023 final against Australia, succumbing on all fronts at the Narendra Modi Stadium in Ahmedabad on Sunday. The Australian bowlers and fielders showcased exceptional performances, with Travis Head's century standing out as a timeless contribution. Pat Cummins' team shattered the hopes of a billion Indian fans, securing their sixth World Cup triumph.
Also read: India's Kettleborough curse drags on: Men in Blue's miseries continue in ICC events; fans blame umpire jinx
Let's delve into the key elements that propelled the Aussies to this historic victory:
1. Toss
In a surprising move, Cummins opted to bowl first after winning the toss, leaving many in quiet disbelief. The expectation was that India would capitalize on the initially slow pitch, amassing a substantial total to exert pressure on the Australians.However, Cummins seemed to have insights that eluded others, possibly from a meticulous study of the pitch, perhaps akin to a Holmes-ian investigation supported by pictures taken the day before.
Regardless of the undisclosed details, the Australian bowlers adapted brilliantly to the conditions, hitting impeccable lengths. Their Herculean effort limited the home side to a total well below par, proving insufficient to challenge the formidable Australian batting lineup, regardless of the presence or absence of dew.
2. India's HEAD-ache
In a precarious situation for Australia, with three wickets down for under 50 runs, the left-handed Travis Head joined forces with Marnus Labuschagne. Despite the target of 241 not being insurmountable, the Indian bowling unit possessed the skillsets to capitalize on even the slightest opportunities.
Head, however, thwarted any chance for the Indian bowlers to gain an upper hand, showcasing nimble footwork and quick hands. His partnership with Labuschagne yielded an impressive 192 runs for the fourth wicket.
This century marked Head's second against India in an ICC event final, adding to his earlier feat of scoring 163 against them in the WTC final in June.
Unlike the Indian batters, Head epitomized everything they were not in the middle overs. The South Australian displayed forcefulness, particularly against spinners Ravindra Jadeja and Kuldeep Yadav, who were anticipated to lead India's counterattack. Head efficiently dispatched them around the ground, employing pick-up shots over mid-on.
Remarkably, Head hammered 15 fours, two more than the entire Indian team managed throughout the match. The Indian bowlers seemed utterly headless in their attempts to counter him.
3. Australia's sensational show on the field
Known for their exceptional fielding, the Antipodeans elevated their performance to a new level in the summit clash, potentially saving around 40 runs. Travis Head initiated this sequence.
Indian captain Rohit Sharma kickstarted the innings in blazing fashion, dispatching pacer Josh Hazlewood for a couple of sixes. However, his attempt to loft Glenn Maxwell over the circle resulted in a miscued shot, and Head showcased his fielding prowess by running backward to secure a brilliant catch. The Australians displayed outstanding outfield skills, with David Warner particularly noteworthy near the ropes, exhibiting acrobatic efforts to halt boundary-bound shots.
Captain Pat Cummins demonstrated sharp tactical acumen, ensuring precise field placements. During the crucial fourth-wicket partnership between Virat Kohli and KL Rahul, Cummins strategically stifled the usually free-flowing duo by positioning his fielders cleverly.
Cummins strategically opened up the cover region with a sweeper in place while tightening the field around square-leg and mid-on. This tactical move seemed designed to induce the Indian batters to take risks for quick runs or settle for workman-like singles to the covers and leg-side, leaving them in a dilemma.
4. Cummins & Co.'s fiery bowling
In the title clash, Pat Cummins entered with a run-rate above six and a modest record of 13 wickets from 10 matches, relatively subdued for a premier fast bowler. However, the New South Welshman left an indelible mark on the final.
Facing off against Shreyas Iyer, who entered the final on the back of consecutive centuries, and the imperious Virat Kohli, the Aussies needed to stifle these key batsmen, a task that Cummins executed with precision.
Cummins not only claimed the crucial wickets of Iyer and Kohli but also maintained an impressive economy rate below four. Astonishingly, the Indian batsmen couldn't manage a single boundary off him throughout the innings—a remarkable feat in a high-pressure match.
Supported by Mitchell Starc and Josh Hazlewood, Cummins, alongside his fellow pacers, secured a total of seven wickets. This accomplishment is noteworthy considering the pitch offered minimal assistance to the fast bowlers, prompting the trio to employ variations such as slow bouncers and cutters to great effect.
Also read: WATCH: PM Modi, Australia's Deputy PM hand over ODI World Cup 2023 trophy to Cummins & Co.
5. Australians have India in tail-'spin'
In a surprising turn of events at Motera, Australian spinners Adam Zampa, Glenn Maxwell, and Travis Head, an unconventional spin trio, joined forces to stifle Indian batsmen. Despite not being considered a formidable spin combination, they collectively conceded only 83 runs in 18 overs during the middle phase, effectively restricting the flow of boundaries for the Indian team.
During their 97-ball partnership, Virat Kohli and KL Rahul struggled to produce only one four. India faced another period of limited scoring between the 41st and 50th overs, managing just two fours, courtesy of Mohammed Shami and Mohammed Siraj. The trio of Australian spinners successfully drained the Indian batsmen of opportunities to score freely.
Last Updated Nov 19, 2023, 11:13 PM IST