Samsung Galaxy S8, S8 Plus launched: 15 features to watch out for
Samsung Galaxy S8, S8 Plus launched.
The S8 gets a 5.8-inch display and the S8 Plus a 6.2-inch display.
A Dual Pixel 12MP camera with Smart OIS is fitted at the rear.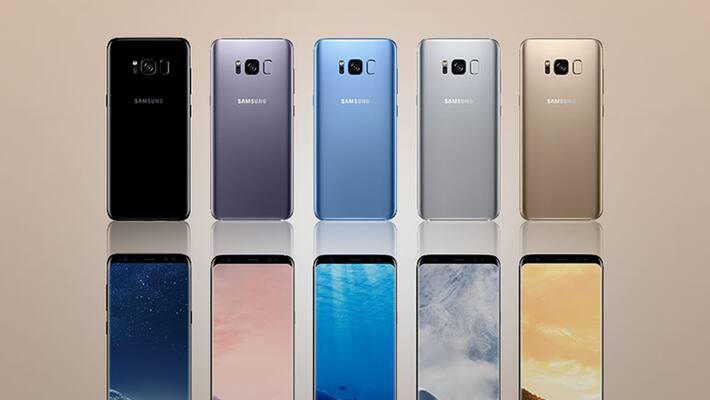 Design
The Samsung device comes in two variants - 5.8-inch S8 and 6.2-inch S8 Plus. It's a mix of glass and metal. Interestingly, the glass wraps the display curling towards the right and left edges, giving it a bezel-less design, something Samsung calls an Infinite Display. It gets Corning Gorilla Glass 5 on both the front and back for durability and oozes a premium finish.
The S8 weights 155 grams compared to the larger variant that is slightly heavier at 173 grams. Samsung has bid goodbye to the home button, which also means the fingerprint scanner is moved to the back side.  Fortunately, it retains the 3.5mm audio jack. It will come dipped in Midnight Black, Orchid Grey, Coral Blue, Arctic Silver, and Maple Gold colour options. 
Display
The S8 sports a 5.8-inch and the S8+ comes with a larger 6.2-inch display. Both get a Quad HD+ Super AMOLED Infinite Display. The S8 and S8 Plus feature 2960 x 1440 pixels of resolution with 529 pixel density and 570 pixel density, respectively.  
Processor
The S8 and s8 Plus will come powered by 10nm processor, which is gigabit LTE and gigabit Wi-Fi ready. This means it can support up to 1Gbps download irrespective of the file size. The S8 and s8 Plus will be powered by octa-core Qualcomm Snapdragon 835 (2.35 GHz Quad + 1.7 GHZ Quad). However, the Indian version could get octa-core Exynos (2.35 GHz Quad + 1.9 GHZ Quad).
RAM
Unlike all the previous rumours, both devices include 4GB of RAM.
OS
The device runs Android 7.0 Nougat. So, you can expect all the latest goodies from the Android OS. Alongside, some proprietary Samsung features.
Bixby
Samsung has also added Bixby, its new assistant to make user experience simpler and convenient.  The Bixby button will let you navigate through services and apps. It will integrate with several Samsung native apps and features like Camera, Gallery, messages and so on.
Camera
A Dual Pixel 12MP camera with Smart OIS is fitted at the rear and an 8MP snapper with Smart Auto Focus for selfies. The camera promises efficient high performance in low light, zoom and anti-blur photos.
Storage
Samsung devices come with 64GB onboard storage, which is expandable up to 256GB via microSD card slot.
Biometrics
Yes, the device comes with fingerprint scanner. In addition, Samsung has also added iris and face recognition capabilities. With an all-screen front side, the device may push the usage of iris and face recognition.
Mobile wallet
These biometric capabilities will work in tandem with Samsung's payment system that was recently launched in India. They could further add security to Samsung Pay. It turns the Galaxy S8 and S8 Plus into a digital wallet that supports over 870 worldwide banking partnerships.
DeX, Gear 360
It's a feature where, after buying a specialised dock, you can plug your Galaxy S8 into a monitor, keyboard, and mouse and get a full desktop mode. A new version of Gear 360 has also been announced. There's also the Samsung Connect allowing users to manage and monitor the smart devices in their home from one unified app.
Earphones
The company has bundled high-performance earphones tuned by AKG by Harman, claiming to offer unbeatable sound quality as an in-box accessory. A hybrid canal, noise cancellation and anti-tangle metal-fabric material have been promised.
Water and dust resistance
Samsung adheres to IP68, making it water and dust resistant.
Battery
The S8 and S8 Plus come fuelled by 3000mAh and 3500mAh batteries respectively. It comes with USB Type-C and supports both wired and wireless charging.
Pricing and availability
The Samsung Galaxy S8 and the Galaxy S8 Plus will be available for pre-order starting 30 March. It will begin shipping in the US on 21 April. There is no word on the India launch. The company has also been tight lipped about the pricing, which will be revealed soon. However, news has it that the S8 could start at $720 that translates to approximately ₹46,700.
Last Updated Mar 31, 2018, 7:03 PM IST