Doormats, flag: 5 times Amazon insulted India!
Amazon sparks controversy by selling doormats with the Indian flag.
Minister of External Affairs Sushma Swaraj wins the Internet by demanding an apology and immediate withdrawal of products.
Amazon Canada has now removed the page from its site.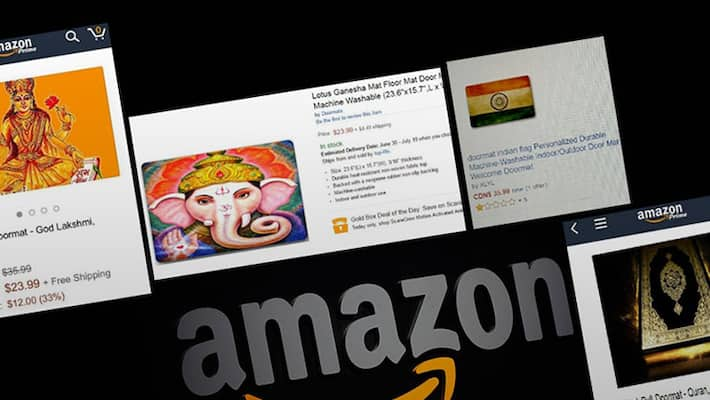 Amazon has enraged Indian netizens by selling doormats with the Indian flag. It was when a user tweeted to Sushma Swaraj asking for action to be taken for selling the products. Swaraj, who is known to have won the Internet many times in the past, quickly responded asking for immediate removal of products and an apology for insulting the Indian flag. She also threatened to decline Visa to Amazon officials, if they failed to comply with the demands. 
In 2016, Amazon had enraged users when it was spotted selling doormats printed with Hindu gods and goddesses. Soon, #BoycottAmazon had started trending on social media. 

Well, it wasn't just Hindu deities. Soon, Amazon was pulled up yet again for doormat printed with the Holy Quran, hurting Islamic sentiments.
Earlier this week, Amazon.ca was forced to pull down a page selling women's underwear with an image of Lord Ganesha. 
In the past, we've seen Hindu cleric Rajan Zed point out women's leggings and yoga pants with images of Hindu gods and goddesses selling on Amazon, hurting Hindu sentiments and asking for their withdrawal immediately.  
Sneaker shoelace decorations with images of Hindu deities had also enraged users in the past. Besides, Amazon had to pull down a mug with 'Got Retard' written on it as the word can be hurtful towards people, especially those suffering from Down's Syndrome. It's a pity that the word is still looked as a joke by many, supporters said. 

Amazon allows third-party sellers to get on its platform, and all those products don't really belong to the company. However, it can be more careful while allowing certain products. But, looks like, it just doesn't want to learn from previous mistakes. 
Last Updated Mar 31, 2018, 6:42 PM IST