Murali Vijay's grit and Cheteshwar Pujara's conviction make England toil
Cheteshwar Pujara scored his 9th Test match hundred.
Pujara and Vijay added 209 runs together in the third-wicket partnership.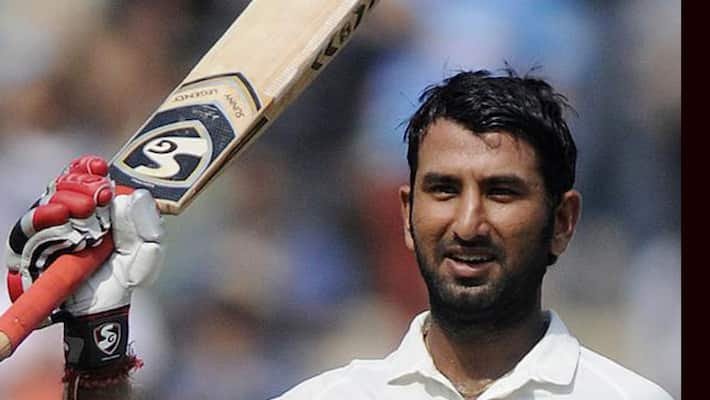 India started off strongly with reply to England's massive total of 537. Gautam Gambhir and Murali Vijay looked solid at the end of Day 2 of the first Test match at the Saurashtra Cricket Association Stadium in Rajkot. But Day 3 belonged to India with Vijay and Cheteshwara Pujara headlining the show against England.
England bowlers have brought out the best out of Pujara and Vijay on Friday. It was a hard day for England bowlers on the field under the scorching sun as Vijay and the local boy – Pujara looked solid at the crease right from the start of their partnership.
The duo was scoring at a decent run rate of 3.11 and added 209 runs in 67 overs. Pujara started off positively as he was scoring off almost every ball he faced. Apart three sharp bouncers from Chris Woakes, which struck his helmet, nothing seemed to have bothered him.
Another moment, when Pujara had his heart in his mouth, was when he was adjudged LBW just before he went on to score his ninth Test hundred. But the DRS saved the day for him and one really should have noticed the joy in his father and wife's face after he was given not out by the third umpire.
Vijay too, completed his 8th century soon after Pujara reached his personal milestone. The Tamil Nadu batsman desperately wanted to score this century as he had series of half centuries before this innings but has failed to convert them into big-daddy hundreds. This time he did not miss it as the determination and conviction was visible on his face and body language.
Vijay and Pujara showed immense patience and calmness on the third of the first Test match against England. This is the kind of mind set one Virat Kohli and the other remaining batsmen need to have once they walk in to bat on Day 4 of the Test match. Pujara and Vijay got out towards the end of the third day's play, leaving captain Kohli at the crease on 26. He will be joined by Ajinkya Rahane at the crease.
Last Updated Mar 31, 2018, 6:45 PM IST