Has Gautam Gambhir played his last Test?
Gautam Gambhir has so far scored 4,081 runs from 57 Tests.
Gambhir, who played a Test after two years, suffered a shoulder injury during Day 3 of the Indore Test.
With two days to go, India will try to make it 3-0 against BlackCaps.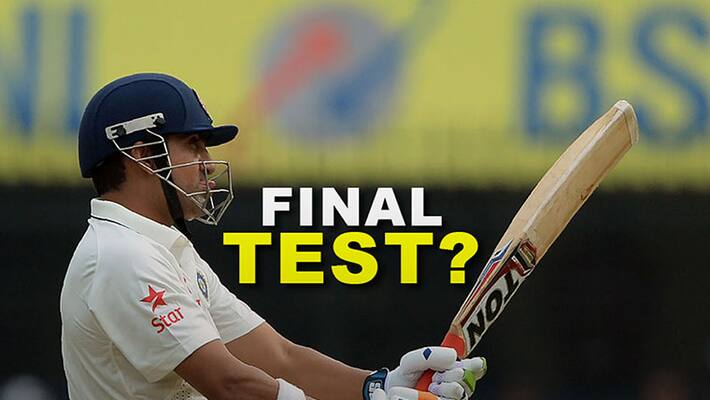 Indore, unknowingly, might have given the Delhi cricketer a send-off.
Just after Gambhir walked off the field, social media flooded with fans expressing disappointment about Gambhir's injury. They also tweeted speculations about whether the BCCI would consider him for another series. However, they knew the truth as well - it will be a wonder if the BCCI gives another green signal to the 34-year-old batsman.
                                                                            Video: Was this Gautam Gambhir's last ball in Test cricket?
Two years since his last Test, he only made his way back into the squad after India's regular Test openers, Shikhar Dhawan and KL Rahul were injured. He made 29 runs in the first innings and six runs in the next before the shoulder injury.
Now that he failed to make the most of this golden opportunity, it is fair to assume that it will be rather difficult for him to bag yet another chance from the selectors.
Regardless of his decent numbers in Tests, where he averages more than 40, he has never been among those who were given repeated chances when they performed badly. 
Team India is scheduled to play England at home in a full-fledged series later this month. India will be hopeful of Dhawan or Rahul's recovery. The quickest to fitness out of these two will find himself in the squad. The England series will go on until December.
If neither of them regains fitness before the England series, Virat Kohli might also go back to his initial strategy of five bowlers.
He might ask Cheteshwara Pujara to open the innings with Murali Vijay and rope a fifth bowler. However, the Indian Test skipper has Karnataka batsman, Karun Nair, as another top-order option. He was included in the squad for Indore Test, but Gambhir has chosen ahead of him.
Had Gambhir converted the Indore Test into a big showing for himself, his chances would have seemed more alive.
All that a skipper would consider is - the batsman (Gambhir) was away from Tests for a very long time. He scored just 29 and 6 and made it worse; he ended the series with a shoulder injury on his comeback series.
Rahul and Dhawan's injuries gave Gambhir a hope to revive his almost done-and-dusted Test career. However, fate will not always go his way. The First-Class circuit has players like Shreyas Iyer, Nair and Aditya Tare, who are waiting for that one opportunity. Especially since, Iyer and Nair have proved their worth in Ranji Trophy, but have sadly missed out during national selections.
And that moment might not be far away!
After the New Zealand, the likes of England, Bangladesh and Australia are lined up next for a fight in Tests. It's a long home season in Tests, where fitness will play a huge role. The ongoing series against the BlackCaps was a testimony to it.
The cricketer who played Test cricket for over a decade is history now. If another injury happens in the team, the BCCI will have the future in mind. It will want to experiment with fresh talent and rather than going with a 34-year-old batsman. (Harsh, but true!)
Last Updated Mar 31, 2018, 6:44 PM IST