Has BCCI hinted the end of Anurag Thakur?
Supreme Court has asked the BCCI to elect new administrators soon.
That means Anurag Thakur will have to step down as the BCCI chief.
SC has given the Indian cricket board a deadline till tomorrow for implementing the Lodha reforms.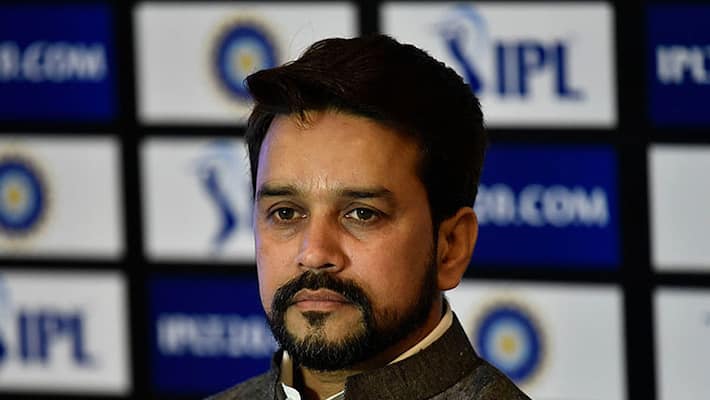 The Supreme Court hearing took place on Thursday where a newly constituted Special Bench of Chief Justice T.S. Thakur and Justices AM Khanwilkar and DY Chandrachud has asked the Board of Control for Cricket in India (BCCI) to elect new administrators.
 
The Apex Court has given the Indian cricket board a final warning for implementing reforms recommended by the Lodha Committee. If the BCCI fails to do so by tomorrow, the Supreme Court will have to pass orders and take over BCCI's administration.
Read more: SC gives BCCI till Friday to implement Lodha reforms 'unconditionally'
Moreover, the BCCI tweeted a few reforms under their chief, Anurag Thakur and by doing so, they have hinted that Thakur might be on his way out of the world's richest cricket body very soon. 
A few reforms mentioned by BCCI's Twitter account included India's successful hosting of the ICC World T20 earlier this year, extraordinary efforts put by them to promote Test cricket in India and many others. 
Here are the tweets:
BCCI's reforms under Lt. @ianuragthakur as BCCI Office Bearer

— BCCI (@BCCI) October 6, 2016
Efficiently organized one of the most successful World T20 in the history of the tournament

— BCCI (@BCCI) October 6, 2016
IPL 2016 was one of the most memorable and non-controversial tournaments despite lot of logistical challenges and last minute changes

— BCCI (@BCCI) October 6, 2016
To promote Test Cricket in India, associations were directed to allot 10
percent tickets free for the kids, girls and specially abled

— BCCI (@BCCI) October 6, 2016
INR 5 Crore corpus created for next 5 years to help the visually challenged and deaf and dumb cricketers

— BCCI (@BCCI) October 6, 2016
Lot has been done to uplift the standards of women cricket and have been offered central contract like men's senior team

— BCCI (@BCCI) October 6, 2016
Laid emphasis and exert efforts to promote domestic cricket and in a quest to do so, academy projects in North East are underway

— BCCI (@BCCI) October 6, 2016
The Supreme Court (SC) has made it clear that state associations do not hold a fundamental right to receive money from the country's cricket body. 
However, Anurag Thakur had different ideas about this as the BCCI has declined to give the undertaking not to disburse the grant to state bodies & abide by all directions of Lodha panel.
"BCCI's defiant attitude will not lead anywhere. They have to corporate with the Lodha Committee and not obstruct it," SC added.
Last Updated Mar 31, 2018, 6:53 PM IST