Devendra Jhajharia: 13 facts about the double gold medallist
Devendra Jhajharia became the first Indian to clinch a second gold medal at Paralympics.
The one-armed javelin thrower bagged gold medals at Athens and Rio Paralympics 2004 and 2016 respectively.
He was also India's flag bflag-bearere opening ceremony at the Rio Games.
When Abhinav Bindra, who remains India's only Olympic gold medallist, created history in 2008, he was India's new sporting hero.
Four years earlier, in 2004 a Para athlete from Rajasthan's Churu district, Devendra Jhajaria, who brought home India's second gold medal at Paralympics, also deserved the same attention from his country.
However, that was not the case. 
Only a few rigorous sports followers knew of Devendra's Olympic gold medal winning Javelin throw. The same man, 12 years later, has ensured his name and image remains in every Indian's mind forever. 
Here are 13 facts you must know about the one-armed athlete, who has only bettered himself to bag a second gold medal at the Paralympics.
Birthplace and family: Devendra was born on June 10, 1981, in Churu District of Rajasthan to farmers Ram Singh and Jivani Singh. He has two siblings, both brothers. The para-athlete lives with his wife and two children, a son and a daughter, in Jaipur. 
The tragedy: At the tender age of 8, Devendra accidently touched a live electric wire of 11,000 volts while climbing a tree. His left arm was completely burnt. The villagers who later arrived at the spot attracted by the smoke declared Devendra dead. 
Life's Miracle: The villagers rushed the eight-year-old child to a nearby hospital. To everybody's relief, he regained consciousness. However, the doctors were forced to amputate the burnt left hand, leaving him devastated. 
In a later interview, the 35-year-old had admitted that at the time, he was more worried about facing his friends as a cripple, than the actual injury. 
Photo courtesy: Devendra Jhajaria's Facebook page
The fear-turned-into-reality: The same friends who played with him in the past began to shun him. During play times, the group would fight against taking Devendra in their respective teams, calling him, "weak." 
Perhaps it can be said that the attitude of those children later became one of the primary reasons behind Devendra's success in the field of Para-athletics. Their mocking pushed Devendra, who decided to prove he was not 'weak' by taking the bold decision to opt for sports seriously.
His first javelin stick: Devendra was from a family of small-time farmers. Initially, they could not afford to buy him a javelin stick. The determined child used a bamboo stick and practised the sport in the fields surrounding his village.
Educational qualifications and employment: Devendra, who has a Bachelors in Arts, is currently employed with the Indian Railways. 
Two Olympic gold medals: Devendra now holds two gold medals at the Paralympics in the F-46 event of javelin. He clinched the medals at the 2004 Athens and 2016 Rio Paralympics, thereby becoming the first Indian to bag two top honours at the games. 
Sports Ministry ignores Devendra: In 2005, the Sports Ministry gave away cash rewards to athletes who won at international events. Sadly, Devendra, who was India's only 'Olympic' gold medal winner that year, was not recognised. He has never even received sufficient assistance from the Sports Ministry, whose ministers, however, do have the time and funds to travel the globe with their families. 
There have been many instances when Devendra has written to the ministry for financial help. But most of the times, the letters went unnoticed.
World record: He set a world record of 62.15 metres in the 2004 Games. The Para athlete bettered himself on Tuesday with a throw of 63.97 metres at Rio, breaking his own record. 
India's flag bearer: Devendra was Indian contingent's flag bearer at the opening ceremony of the Rio Paralympics 2016.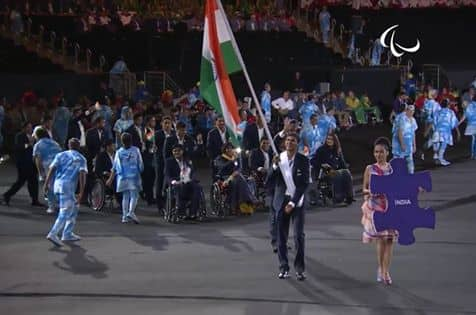 Photo courtesy: Devendra Jhajaria's Facebook page
Deal with daughter: Devendra's six-year-old daughter, Jiya, accompanied him for his training most of the times in Jaipur. He had a deal with her before the Paralympics at Rio. If she topped in her exams, he would go for gold in Rio, he revealed to PTI. 
"She proudly phoned me to announce that 'I've topped, now it's your turn', something that kept on echoing in my ear when I entered the field at the Olympic Stadium," he added.
Go Sports Foundation: The GoSports Foundation is currently supporting Devendra through the Para Champions Programme. It is a non-profit and donor-funded venture that supports India's junior Olympics and Paralympics athletes. 
National awards: He became the first Indian Paralympian to be honoured with the Padma Shri. He received it in 2012 and was awarded the Arjuna Award during the Republic Day in 2004.
Last Updated Mar 31, 2018, 6:55 PM IST