Oops he does it again: A recap of Kohli's runout sagas
Kohli got Dhoni runout during the first ODI between India and New Zealand.
India went 1-0 up with a victory of six wickets in the Dharamsala match.
Kohli remained unbeaten on 85.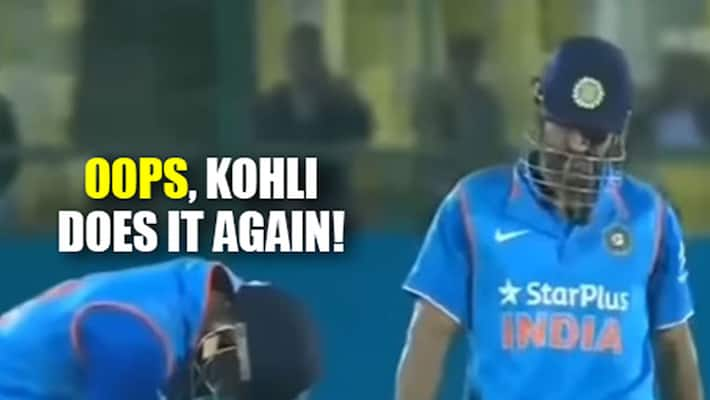 Although India was in a comfortable position, needing 31 runs off 22 overs, they would have wanted the captain and his deputy to finish off things. Dhoni went down the track and missed a flick watching the ball go towards the covers. 
Dhoni immediately looked at Kohli as it would have been an easy single for fast runners like them. Unfortunately, by the time Kohli responded to Dhoni, the latter was already in the middle of the pitch. Alas, the call was negative.
Dhoni was too far ahead to run back so he just stood there watching the Kiwi keeper take off the bails. Without uttering a word, the wicketkeeper-batsman just walked out, leaving Kohli completely flustered.
Oops, Kohli "did it again!" The saga of Kohli and run outs continues. Here are some more famous examples: 
India vs. New Zealand, 1st ODI at Dharamsala:
So far, India's opening batsman Rohit Sharma was associated with Kohli and run outs of this sort. Dhoni became his new victim. 
However, unlike the Indian limited-overs leader, Kohli always has a clear expression of dissatisfaction when he loses his wicket to his partner's fault. To be fair, he also, equally, expresses anger on himself when he himself is to blame. Kohli's face expressions are of a child; they give away his thoughts and yesterday it was evident how angry he was for getting Dhoni run out.
Nevertheless, he fulfilled Dhoni's job - something which all the fans wait to watch - dancing down the track and lofting the ball over the bowler to wrap up the match with a SIX. 
India vs. Australia - 2nd T20I at Melbourne:
This was the fifth occasion when Kohli and Rohit were involved in a runout - and usually, Rohit gets Kohli runout. For a change, this time, it was the Mumbai cricketer who had to walk back to the pavilion. The dismissal was somewhat similar to Dhoni's. Although it was an easy two, Kohli signalled a 'no' midway, which gifted the Australians an easy runout. 
Kohli went on to remain unbeaten on 59 and helped India post 184 in 20 overs. A collective effort from the visiting bowlers gave India a victory by 27 runs. 
India vs. Australia - 2nd ODI at Brisbane:
Rohit scoring a double ton whenever he got Virat runout had become some sort of tradition. It had happened twice earlier, and the crowd hoped for something magical yet again from the explosive opener. 
However, the Indian fans had to settle for just a century from Rohit, who along with Rahane (89) helped India post 308 runs. Sadly, that hundred of Rohit came during a losing cause for India. 
India vs South Africa - 2nd T20I at Cuttack:
The Rohit-Virat runout 'love story' turned comical in this game when both the batsmen saw themselves getting runout. Virat's dismissal was more frustrating because he was out on the first ball he had faced. 
Kohli, who had become the 34th batsman in T20 internationals to be dismissed for just one run off one ball, walked off the field cursing himself or maybe Rohit! (It was not clear who had called for the second run.) Three overs later, Rohit was runout too. 
India vs. Sri Lanka - 4th ODI at Kolkata:
Sometimes it feels like the sheer disappointment that Kohli displays on his face when someone else gets him runout brings out the best in the guilty player.
When that happens, it is no less of a treat for fans to watch. 
Such was the case for this runout, which came when Kohli was playing flawlessly, carefully ticking the scorecard. After one of the quickest runners between the wickets had failed to cross the crease, Rohit ensured that did not damage the chances of his side.
He smashed the highest ODI score ever, 264 off 173 balls - which comprised of 33 fours and nine sixes. 
India vs. Australia - 7th ODI at Bengaluru:
This match witnessed the beginning of Virat's run-outs saga (and also involves Rohit!). An angry Kohli was on his way back to the dressing room and meanwhile, fans lashed out at Rohit on social media.
What followed next was an unbelievable sight - Rohit not only scored a century for himself but also for Kohli. He finished the innings with his first-ever double ODI ton - 209 off 158 balls. 
Last Updated Mar 31, 2018, 6:45 PM IST