In a rare show, veteran VS campaigns for Pinarayi Vijayan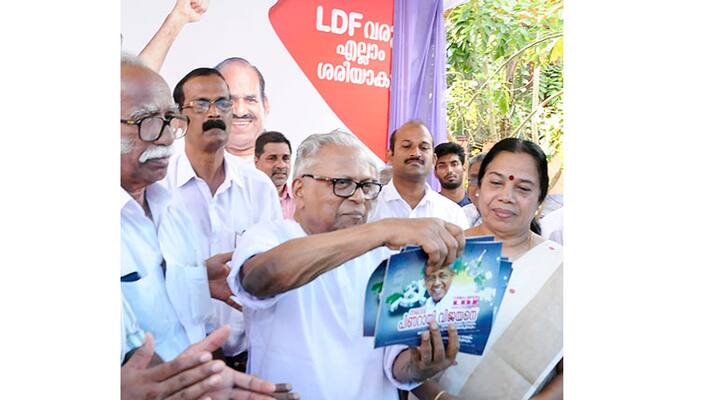 The rivalry between the Communist Party of India-Marxist veteran VS Achuthanandan and Politburo member Pinarayi Vijayan is no secret. But in a rare show of comradeship during the poll campaign, Achuthanandan addressed a public meeting at Dharmadam in Kannur where Vijayan is contesting from and requested the voters to give him a 'proud majority.' 
Achuthanandan's visit to Dharmadam on Thursday had evoked much curiosity among political circles as the two leaders were at loggerheads for long. His campaign in Dharmadam also gains importance as it comes just a day after Vijayan created a flutter by reiterating that the party resolution against Achuthanandan still stands. The state secretariat of the CPM, held during the Party Congress at Alappuzha in 2015, had adopted a resolution alleging that the nonagenarian had stooped to the level of an anti-party crusader.  
Vijayan was quick to deny the statement by blaming it on distorted reporting. 
 In his speech at Dharmadam, Achuthanandan chose to stay away from the raging controversy. Instead, he rapped the Congress-led United Democratic Front (UDF) and its poll promises.
 "I couldn't stop laughing after reading the UDF manifesto," Achuthanandan said. Hundreds gathered there joined the laughter. 
I couldn't stop laughing after reading the UDF manifesto: V S Achuthanandan
All in the UDF ministry, except PK Jayalakshmi, are corrupt. Still, they promise corruption-free governance, he said before reading out the number of corruption cases filed against each minister including Chief Minister Oommen Chandy and listed the controversial land deals during the UDF regime. 
Achuthanandan,92, the only living leader among the 32 comrades who left the Communist Party of India to float CPM in early 60s, addressed the meeting over 20 minutes. 
By joining the campaign for his party rival, the veteran laid to rest the reports that Vijayan's statement on the party resolution against Achuthanandan would incite factionalism once again.
 
Watch VS Achthanandan's speech at Dharmadam:
Last Updated Mar 31, 2018, 7:07 PM IST