In Tamil Nadu, a kiss is political currency
Then Samuel took the flask of oil, poured it on Saul's head, kissed him and said, "Has not the Lord anointed you a ruler over His inheritance?  1 Samuel 10:1 
Even by the conservative standards of South India, Tamil Nadu is remarkably public display of affection (PDA)-averse.
In other parts of India, the hug has become standard greeting protocol. Prime Minister Modi, in his two-year stint, has probably dispensed as many hugs as Mata Amritanandamayi, extending his outstretched arms to Barack Obama to Mark Zuckerberg (photo below) to Shinzo Abe.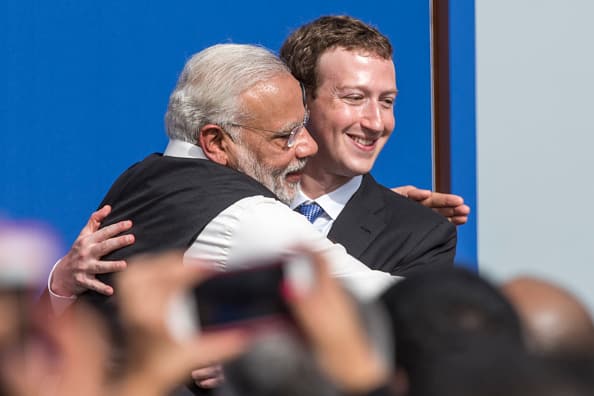 In Tamil Nadu however, you will be hard pressed to find pictures of political colleagues or allies in public embrace. When grand coalitions are stitched together and a show-of-unity organised at the Marina Beach, there's only that chain of fists rather gingerly held aloft. Even when political greeting and obeisance-paying takes the form of wrapping the ponnaadai or zari-ed shawl around a political senior, adequate care is taken to avoid physical contact.
In Jayalalithaa's case, even the ritual act of party men falling at her feet has to be conducted at a distance of a few metres.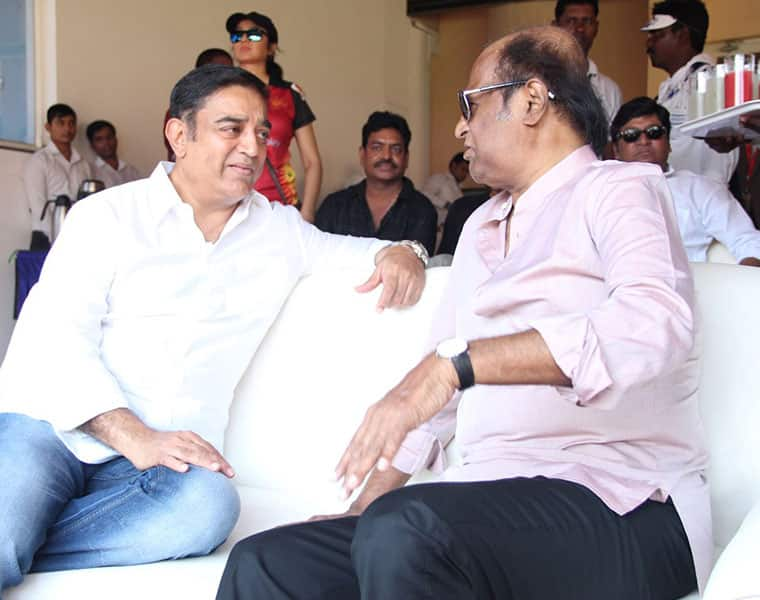 In other walks of public life too, touching-touching is rather taboo. When close friends Rajinikanth and Kamal Haasan meet (photo above) under public gaze, a firm handshake and a hands-folded, arms length distance photo-op is all the paparazzi get. It is only recently that Bollywood has influenced Tamil film celebrities to get huggy.
However, come elections, or big political events, Tamil Nadu's walls witness a flurry of posters featuring politicians being kissed.
No Jayalalithaa birthday celebration is complete without giant posters and cut-outs of Amma's Amma, Sandhya, planting a peck on her cheek (banner photo above).
During this election season too, you'll find the somewhat odd sight of posters involving Karunanidhi kissing son Stalin (photo above) and assorted DMK luminaries. 
The MGR legacy
MG Ramachandran (MGR), the Tamil superstar-turned-CM was a serial kisser, off-screen.
At public events, the kiss was his preferred mode of distributing deep affection.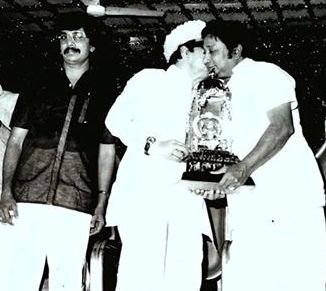 Even today, for many Tamil film artistes of the 70s and 80s, black-and-white pictures of them being kissed by MGR holds pride of place.          
When MGR died in 1987, the now-defunct magazine Asiaweek ran a cover 'The Man They Called God'. Such, was his status in the Tamil society that an MGR kiss became the stamp of divine approval.
While Karunanidhi and other minor political patriarchs cannot match the messianic popularity of MGR, the kiss certainly seems to retain currency among their followers.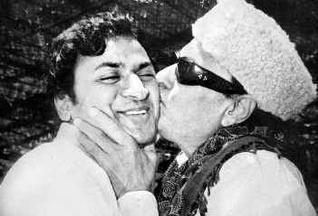 Last Updated Mar 31, 2018, 6:49 PM IST