Blood-curdling history of Kannur's political factionalism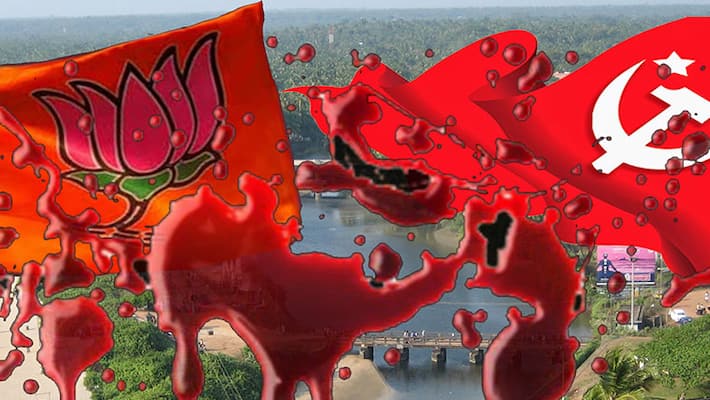 After an uneasy lull, violence erupted once again in Kannur after two CPM and BJP activists falling victim to yet another round of political revenge killings in the district which is notorious for political turmoil in the past. Reminding us of the 80s and 90s, when both parties used to do a blood-chilling balancing act by keeping the number of martyrs equal on both sides, the murder of a CPM youth at Payyannuron on Monday night was paid back within hours! The red brigade got a martyr and the saffron party, a Balidani! 
Also Read: Kannur violence: CPM, BJP workers hacked to death
The politically sensitive northern district of Kerala was relatively calm for the past few months, despite occasional bouts of violence. There were no major incidents of political murders since the death of Preman, a CPM worker on 1 December 2013. Still, the embers of political rivalry are kept alive, fanned by hatred and revenge. A cannibalistic sense of hatred and a self-inflicted suspicion are carefully nurtured by the parties and leaders who train their cadres to prowl on each other, with or without 'provocation,' as they define it at their convenience. The cadres, through rituals and commemorations of the numerous martyrs of their respective organisations, are instilled with a crude sense of pride in taking revenge.  
In the violence-torn villages of Kannur, days remain eerily calm during 'seasons' of violence. The devil dance begins after nightfall. The party gangs start pelting stones and hurling bombs at houses of rivals, force into their homes and hit their rivals in cold blood, maiming them and finishing off at times.    
Also Read: What would a Mallu do in ISIS? 
At the end of the day, it just adds to the lifeless statistics. More than 200 people have lost lives in the political war zone in the past six decades. No one has bothered to take the numbers of the maimed and eternally bedridden victims. The luckiest among these living martyrs get a regular supply of provisions to their homes and perhaps a job for their dependents at party institutions. Thousands of houses destroyed, bombed and set ablaze. Numerous youths have fled Kannur, which remains one of the most underdeveloped in the state, despite being the home district of three Chief Ministers, including Pinarayi Vijayan. 
The political killings had a slow start in the late 1960s and turned into a bloodbath in 1990s when the BJP and the CPM settled score just as in a football tournament. Both sides lost many men. And leaders were also targeted. The most barbarous of them took place in 1999 when Bharatiya Yuvamorcha leader KT Jayakrishnan was hacked to death inside a classroom when he was teaching standard 6 students. 
But at some point, even at the height of the violence, the leaders were spared for some unknown reasons. The poor workers on both sides, however, continued to pay the price. 
Who started it?  Unfortunately, this question is repeated every time the murderous volcano erupts. And the leaders shamelessly engage in the you-pinched-me-first game, as if it justified their position. Each time, a customary peace meeting is held at the district level where the leaders promise peace, knowing very well that the minutes of the meetings do not cement peace.
Keeping a relative calm for quite some time, Kannur made national news on 1 September 2014, when RSS leader E Manoj was murdered and the BJP making it a national issue. The incident kicked off a subdued riot in the district, considered 'normal' given the infamous history of political hostility. In just six months after that, the district recorded four political murders and clashes in which 183 persons were injured, hundreds of houses damaged, vehicles burned and offices and reading rooms vandalised!
It seems another season is on. This time, they started on an even score, though. Hope they would stop it at that. 
Sadly, the leadership of both parties chose to sound war cry. 
"The RSS and BJP are deliberately creating provocation to put the Left government in  Kerala under pressure," said CPM state secretary Kodiyeri Balakrishnan after two lives lost in Kannur on Monday night and early morning on Tuesday. 
"BJP is only defending itself. If the CPM continued violence, we will not sit idle," said A Raja, BJP National Secretary. "Pinarayi Vijayan is responsible for the violence."
Last Updated Mar 31, 2018, 7:06 PM IST