Super mouse devotees to organize grand parody religion mela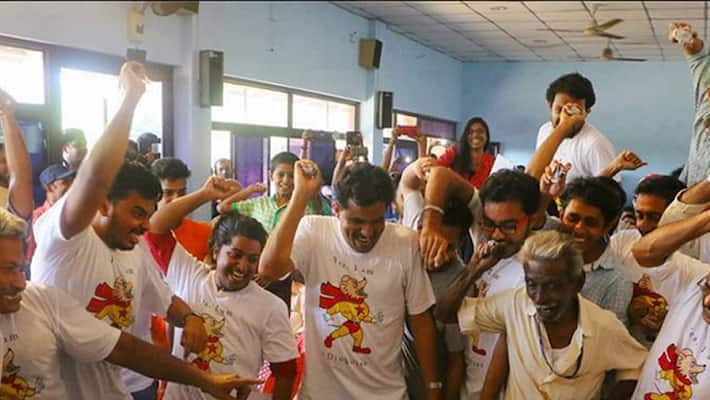 Dinkoists, followers of the social media borne parody religion Dinkoism, are all set to assemble at Kozhikode for the maiden Grand Dinka Religious Conference on March 20.  Proclaiming Dinkan, a super mouse from the Malayalam children's publication Balamangalam, this spoof religion n has gained thousands of 'devotees' on the social media and even organized public protests in Kerala.
   Graffiti announcing the Grand Dinkoist Conference appeared in many parts of the town over the past week.Dinkoists from across the globe, who have communicated among each other only through social media, are expected to join the conference.
In an apparent dig at Sri Sri Ravisankar's Cultural Festival on the banks of the Yamuna, Dinkoists assured that the event will be held without destroying nature. "No farmer will have to shed tears. And traffic will not be obstructed," they promise 
 "Believers of other religions can gain several benefits from following Dinkan. They are always welcome to Dinkavanam, (Dinka forest) the heaven of Dinkoists ," Sojan, one of the organizers said.
"Dinkoism succeeded in exposing established religions," PV Shajikumar, writer. 
Recently, Dinkoists celebrated Maha Dinkarathri while the Hindus celebrated Maha Sivarathri.
    Dinkoists made their first public appearance with a protest march against Malayalam superstar Dileep alleging that the actor has hurt their religious sentiments as his recent film was named 'Professor Dinkan'.   
"Don't take Dinkoists for granted. How dare you malign Lord Dinkan," dozens of Sena activists shouted outside the actor's restaurant in Kochi.  The march grabbed public attention, and Dinkoism won more hearts, including Kozhikode District Collector, Prashant Nair, known popularly as 'collector bro' on social media, who predicted bright prospects for the 'religion'.
According to Dinkapuranam, Dinkan the mouse was abducted by aliens and bestowed with super powers. A video on Dinkoism claims that the religion flourished in Kerala some twenty thousand years back. And ancientDinkoists had planes, cars and even washing machines!
    At a time when religious sentiments get easily hurt, the parody protest easily caught the imagination of netizens. Followers of Dinkoism keep growing. Testimonies of Dinkan's miracles go viral in no time.
  "Dinkoism succeeded in exposing established religions. And it was a timely intervention by Dinkoists in the context of rising religious intolerance," said writer PV Shajikumar.
In January, The Netherlands recognized parody religion, The Church of the Flying Spaghetti Monster and New Zealand legalized marriages performed in the Church.
Last Updated Mar 31, 2018, 7:04 PM IST