Kerala polls: Tharoor bouncer stumps Sreesanth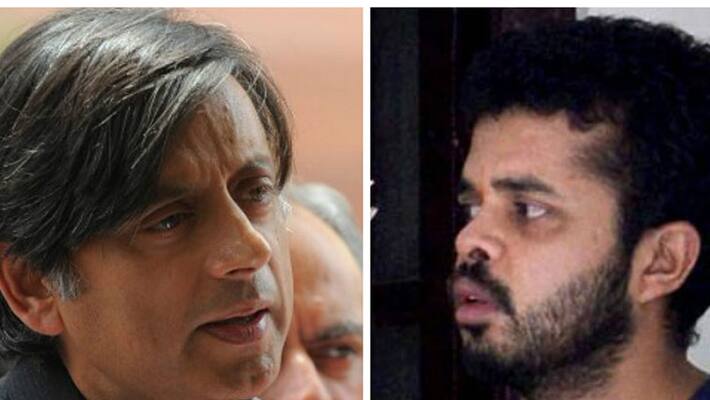 Matters seem to heating up on social media ahead of the Kerala polls with veteran Congress leader Shashi Tharoor and Cricketer-turned politician S Sreesanth getting into a nasty spat on Tuesday.
The Bharatiya Janata Party (BJP) is fielding Sreesanth against the current Health Minister, VS Sivakumar of the Congress. On Tuesday, former Union Minister Tharoor posted a video titled "Sreesanth Funny Interview in NDTV" with a message "Why @sreesanth36 needs to do his homework against the incoming bouncer."
In the video, Sreesanth was asked to state three things that the health minister has not done. Sreesanth, however, seemed to be clueless, fumbling about before backing out under the feeble excuse - "I don't want to get into this now,"
Even anchor Vishnu Som, normally quite professional, could not resist from making the obvious quip "A little research would be in order." 
Back on Twitter, Sreesanth seemed unfazed initially by Tharoor's gibe and merely posted a quote that he claimed was from Chanakya, though whether Chanakya actually said it or not is unverifiable. The quote posted by Sreesanth read: "If there is unrest among intellectuals and criminals, assume that King is doing right."
But things did not end there. In time Sreesanth's mood got considerably worse. He subsequently posted a series of tweets (which he later deleted) accusing Shashi Tharoor of many, many things, including never helping "me or my family."
@sreesanth36 deleted this tweet will he ask BJP 's mouthpiece @ZeeNews to delete this news report. @ShashiTharoor pic.twitter.com/KofxXF9fts

— Jameel جميل (@jameelsjam) April 19, 2016
Tharoor probably was feeling rather smug by now, since in politics the first one to lose their cool is almost inevitably the loser. 
Several hours later, Tharoor posted this smooth reply to his millions of followers on Twitter:"You remain one of my favourite players. But politics is a different field.Now you're in the nets, full tosses will come."
Last Updated Mar 31, 2018, 6:45 PM IST