Firebrand Hindu leader airs doubt on Vavar Swami's Muslim roots
Vavar, a close friend of Lord Ayyappan as per myth, and the Vavar Masjid at Erumeli are closely connected to the Sabarimala Temple.
The myths and rituals related to Sabarimala and Vavar Masjid showcase the religious harmony in the state.
Hindu Aikya Vedi leader Sasikala raised doubts about the Muslim identity of Vavar, inviting criticism.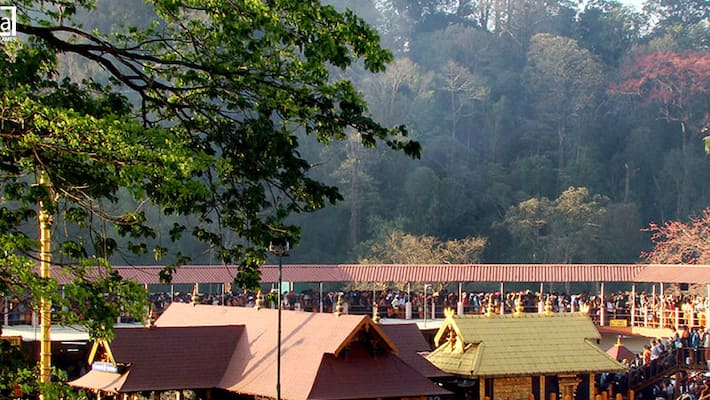 Kerala's firebrand Hindutva orator has triggered a heated controversy by casting doubts on the Muslim identity of Vavar Swami, the close friend of Lord Ayyappan of the famous Sabarimala Sree Dharma Sastha Temple. As per popular myth related to Lord Ayyappan and the rituals at the forest shrine, Vavar is an integral part of the belief, often hailed as a great example of religious harmony.
Participating in the 'Point Blank' programme of Asianet News, Hindu Aikya Vedi leader Sasikala said on the other day that she did not believe that Vavar Swami was a Muslim. The statement elicited a sharp response from different corners criticising her for allegedly trying to smuggle in Hindutva ideology and to alter the myths and legends as per its design.
Author and activist, Rahul Easwar, who belongs to the family of Thanthris (priests) of Sabarimala temple, took strong exception to Sasikala's statement. "Such views are aired by a section of the Hindu Right-wing as they believe that Hindu unity could be established only through casting aspersions on the Muslim community," he said. A casual visit to the Vavar Mosque at Erumeli will clear all 'doubts,' about the Muslim identity of Vavar, he added.
There is clear evidence that Vavar was a Muslim. In a case before Kerala High Court in 1950, Kantararu Shankarar, the Thanthri of Sabarimala Temple, had stated beyond doubt that Vavar was a Muslim. "It is said that Vavar is the son of Muslim parents Pathumma and Seythali. There is a dedicated place of worship for Vavar in Sabarimala Temple and as per Islamic tradition, it has no idols," he explained. 
The Vavar Masjid at Erumeli, not far from Sabarimala Temple, is a holy place worshipped by both devotees of Lord Ayyappan and Muslims. 'Petta Thullal,' one of the important rituals in connection with the annual festival at Sabarimala, is held at Erumeli Vavar Mosque. The Petta Thullal, or the victory dance, performed by devotees, marks the victory of Ayyappan and Vavar over the forces of the demon.
Just a couple of weeks back, Sasikala, a firebrand orator of the Hindu Aikya Vedi, has kicked up a controversy by stating that Onam is the celebration of Vamana, an incarnation of Lord Maha Vishnu. Vamana is a freedom fighter, who pushed down the proud King Mahabali to the netherworld and saved his subjects, she said. Her contention went against contrary to the popular myths related to the national festival of Kerala. BJP President Amit Shah had also come under the line fire of fire for wishing Vamana Jayanthi on the eve of Onam. 
Last Updated Mar 31, 2018, 6:49 PM IST