Outrage in Kerala over B-tech student's suicide, agitators ransack college
The student was found hanging in hostel bathroom on January 6
Students said Jishnu Pranoy was innocent and had not copied during exams
College authorities allegedly threatened to debar him from attending exams for three years
There were blood clots and injuries on the body of the student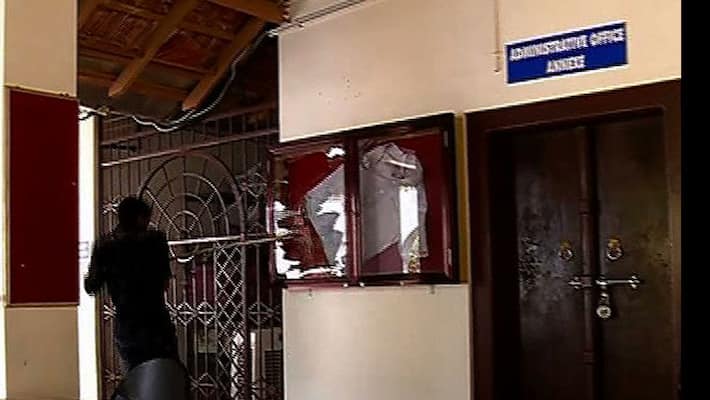 The student outrage over the death of a B-Tech student of  Nehru Engineering College at Pambady in Thrissur went out of hand on Monday. Students, belonging to various outfits, clashed with police and vandalised college office and classrooms. They also damaged a police vehicle.
 
Students clashed with police many times in the morning and broke into the college defying the police picket. They ransacked the classrooms and vandalised security cabin, administrative offices and college canteen. 


 
Jishnu Pranoy, 18, a computer science student allegedly committed suicide by hanging himself in his hostel bathroom on January 6. He killed himself hours after he was allegedly caught copying from another student. His friends said that Pranoy was innocent and was harassed by college authorities. 
 
"It was the invigilator who claimed that Pranoy was copying. But he kept saying that he was innocent. An eyewitness to the incident too confirmed Pranoy's innocence. However, college authorities were not ready to believe him and threatened to debar his from attending exams for three years and forced him to cross the answer sheet," one of the students said. It was during semester exams on January 6 that the incident happened. 
 
Later in the evening, as Jishnu was not present during mandatory roll call at 6.45 pm in the hostel, his friends went in search of him. He was found hanging in the bathroom. 
 
Denying the allegation, college principal said they did not complain against the student. "We only explained the implications, and it was Pranoy who crossed the exam sheets. He also gave in writing that he crossed the papers as he copied answers, said college principal A S Vardharajan. 
 
Following this, various students started raising allegations against college management. They said the college officials and teachers used to misbehave with students and those who protested were not given internal assessment marks. They also alleged that the college authorities did not attend Pranoy's funeral and did not even call his parents once. 
 
Hashtag #JusticeForJishnu started trending on social media, and alumnus started posting about various atrocities they faced inside the campus. A Facebook page 'Justice for Jishnu' was also created seeking action against college authorities. 
 
Meanwhile, Pranoy's mother told media that the college management was harassing her son. She said there were blood clots and injury marks on his body and this proves harassment by college authorities. 
 
Several prominent personalities like writer N S Madhavan and filmmaker Aashiq Abu condemned the incident.   
 
Students outfits have called for education bandh on Tuesday demanding action against college authorities. 
Last Updated Mar 31, 2018, 6:39 PM IST