Armed Maoists take out march-past at Nilambur in Kerala
12th birth anniversary of CPI (Maoist) was organised in the forests of Nilambur in Kerala.
Maoists issued a press release along with photographs of celebration
The party state and Central committee leaders attended the function
In a daring move that took the Kerala Police by surprise, armed cadres of the CPI (Maoist) organised celebrations in connection with the 12th anniversary of the party formation in the forests of Nilambur in Malappuram on Wednesday. The Maoists also held a march past at Mukkavala that shares a border with Karnataka and Tamil Nadu. The incident came to light when the Maoists released a press note and photographs of the celebration on Saturday.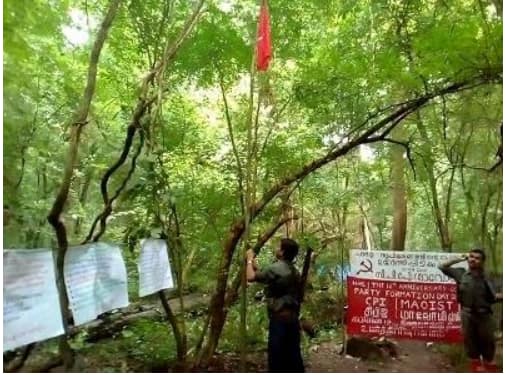 The press release claimed that central and state committee leaders of the party attended the function. The function began with a march past of People's Liberation Guerrilla Army (PLGA) led by Chellan, a top leader of the group.  He formally inaugurated the deliberations by hoisting the party flag. 
The party leaders emphasised the need for bringing tribal and Dalits under the banner of the party. Cultural programmes were also held as part of the celebrations. 
Examining the photographs released by the Maoists, the police identified their leader as Vikram Gowda from Karnataka, a top commander of the Maoist group based in the Western Ghats.  
On 21 September, the Western Ghats Zonal Committee of the CPI (Maoist) had released a press statement exhorting the people of Kerala to join the fight for the uplift of tribal people and against the exploitation by government.
By organising the programme in Kerala and releasing a press handout, the Maoists are trying to drive the point that the party has not lost its ground in the region even after the arrest of its top leader Roopesh and his wife Shaina in May 2015. 
Last Updated Mar 31, 2018, 6:45 PM IST