Trouble in UDF: Kerala Congress (M) to sit as separate block in Assembly
Kerala Congress (M) is known to have decided to keep a safe distance with the UDF
Party MLAs to sit as a separate block in the Assembly
The UDF is facing imminent collapse: BJP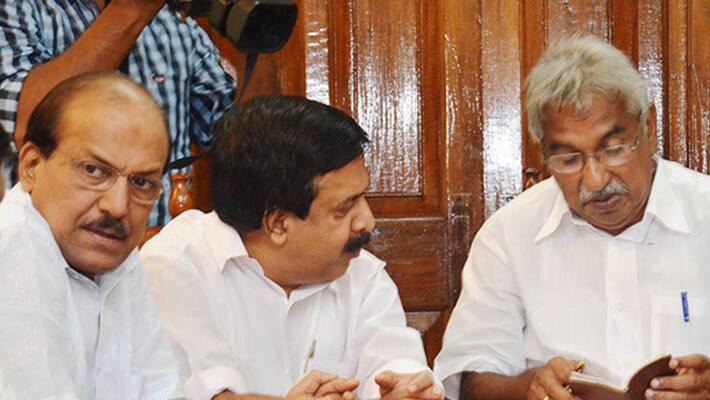 Kerala Congress (M), the third biggest partner of the Congress-led front in Kerala has decided 'to keep a distance' from the Front and to sit as a separate block in the Assembly.  
 Asianet News reports that P J Joseph, the working chairman of Kerala Congress (M), who was reluctant to leave the UDF, also agreed with the decision to sit as a separate block. Though the leadership is keeping the cards close to the chest, party insiders confirm that a final decision was taken at a steering committee meeting the other day. 
 Kerala Congress leader KM Mani held a meeting with party MLAs at the residence of his son Jose K Mani MP after party's steering committee meeting at Kottayam. "The party will stand united. The meeting was convened to fix the agenda for discussion at the state camp," Mani said after the meeting. 
 
Also read: Kerala Congress (M) mouthpiece hits out at Ramesh Chennithala
 
A sulking Mani had kept away from the UDF leadership meeting last week, sending a clear message to the Congress.  Though the Congress and some UDF partners tried to appease the Kerala Congress leader, he remained adamant. Congress leader Oommen Chandy met him at Pala on Saturday. After the meeting, Mani told media persons that certain issues remained unsolved. 
 
Also read: Finally, KM Mani opens up: Bar bribe conspiracy was an insider job
The state camp of the party at Charalkunnu in Pathanamthitta will take a final decision, Mani said on record.  
The relationship between the party and the Congress started turning sour after the bar bribery scam surfaced forcing Mani to resign as the Finance Minister in the UDF the ministry. Mani and his party believe that the scam was a conspiracy. The party overtly and covertly alleged that Congress leaders were behind it. Party mouthpiece went a step further and alleged that Congress leader Ramesh Chennithala, who held the Home portfolio in the UDF ministry, was the brain behind the conspiracy. 
Also read: Doors open: BJP sends feelers to Kerala Congress (M)
  Meanwhile, the BJP felt that the UDF was facing an imminent collapse and hoped that the political situation was turning favourable for the party in Kerala. The BJP state president had earlier welcomed the Kerala Congress (M) to the National Democratic Alliance. 
Last Updated Mar 31, 2018, 6:43 PM IST