All these years Sabarimala Ayyappa was sleeping to a faulty lullaby
The origin of the song traces back to 1950
Swami Vimochanananda sung it for the first time at Sabarimala
The song set in Madhyamavati raga was composed by G Devarajan for the film Swami Ayyappan in 1975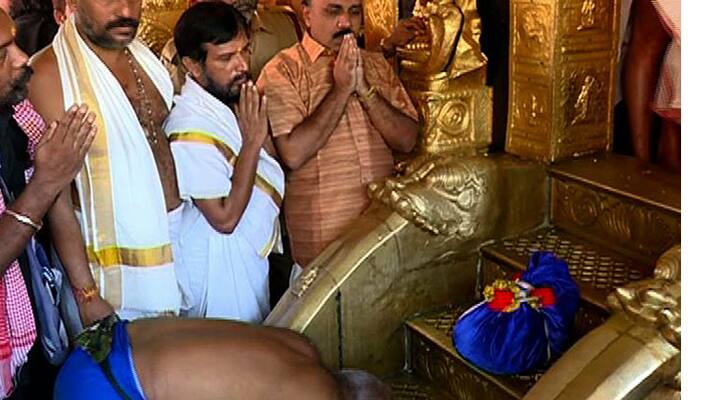 After four decades Sabarimala temple authorities realised that the urakkupattu (lullaby) for the main deity Ayyappa Swamy had a grave error. Now, Sabarimala chief priest Tantri Kandaru Rajeevaru has said the temple authorities are ready to play a corrected rendition if music maestro K J Yesudas is willing to re-record the song. 
 
Yesudas had recently confessed that there was an error in the rendering of the song which is routinely played as the lullaby of the Lord. 
 
The song set in Madhyamavati raga was composed by G Devarajan and was recorded for the film Swami Ayyappa in 1975. It became so popular that Sabarimala authorities decided to play the record every night at the temple. It is sung in a chorus as the priests and devotees sing along with the record played. 
 
Yesudas had recently said that the third line of the song was rendered wrongly. "The line that goes 'Ari vimardhanam nityanarthanam' is to be pronounced as three separate words. The head priest of the Ayyappa temple at Anna Nagar in Chennai said the words 'ari (enemy) and 'vimardhanam' (destroy) should be spelt separately. In the song, it is rendered as a single word," Yesudas had said. 
 
When the words 'ari' and 'vimardanam' and combined it gives an entirely different meaning. 
 
The music maestro also said he is ready to sing the song again if he is given a chance. "I was simply following the instructions of music director," he said.  
 
Responding to this statement head priest of the temple said they would be happy to play the new rendition if Yesudas would correct it. 
 
The song with eight stanzas or Ashtakams was originally written and composed by Kumbakudi Kulathur Iyer in 1950. Meanwhile, some ascribe the authorship of the song to Konnakathu Janaki Amma. However, it was Swami Vimochanananda who sung it for the first time at the hill shrine. The song became the lullaby of Swami Ayyappa after head priest of the temple began singing it at the end of the day's rituals in late 1950's, and the tradition remains unbroken till date. 
 
Listen to the song
Last Updated Mar 31, 2018, 6:43 PM IST