Gnanakoothan: The greatest Tamil poet since Subramanya Bharati
On 23 July at around 8pm I felt this sudden urge to go and visit Gnanakoothan. Only a few days ago I had sought his help in decoding a Sanskrit poem. When I rang up to make an appointment, he told me he himself would come down to meet me.
Gnanakoothan was way too modest for his own good. It is one of the big reasons why he did not get the kind of attention and recognition from the Tamil society a man of his accomplishment and skill deserved.
 
After all, when cinema has turned Tamil Nadu into a decibel inferno, how can the tender voice of a poet remain audible.  Here if you don't blow your trumpet loud enough to shatter people's eardrums, they will scarcely notice a writer's existence.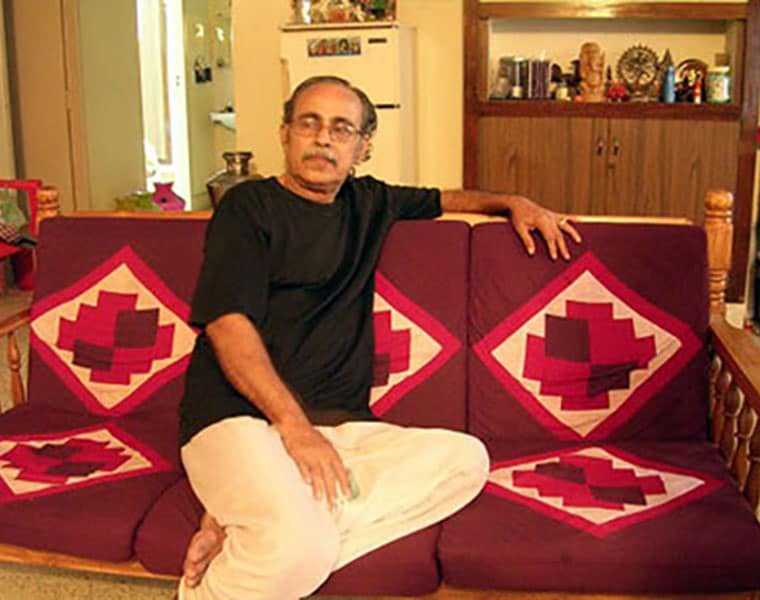 The day I wanted to look up Gnanakoothan, he had bid the world of poetry adieu.
 
When I heard the news of his demise, I was shattered. I couldn't muster the will to pay my last respects. But Gnanakoothan is immortal. 

He represents the link between the glorious and ancient Sangam Tamil literature and the 21st Century. The Sangam poets celebrated the Land in their songs. Land meant the life it sprouted; its Gods; its smells and sounds; its animals; its stories; its chastity; its sorrows; and its joys and jollities.
 
The French New Wave dragged cinema kicking and screaming to the real world of common folk from other-worldly epics and stories of kings and queens. Similarly, Gnanakoothan brought Tamil poetry floating somewhere in the realms of high philosophy back to terra firma inhabited by ordinary men and women. In that sense, he can be called the pioneer of modern Tamil poetry.

Just as how after several centuries Tamil got a new lease of life at the hands of Subramanya Bharati, Gnanakoothan was singularly responsible for bringing about the next turning point.

He was a scholar of both Sanskrit and Tamil literature. He had read Bhasa and Kalidasa in their original in Sanskrit.  At the same time, his mastery over Western literature was immense. His works were enriched by a deep understanding of these three different literary traditions.

Gnanakoothan was a most affable mild-mannered person you could meet. But his poetry was uniformly provocative and incendiary.

Most notably, employing biting satire and parody, he attacked the Dravidian movement which he felt used a counterfeit brand of Tamil pride to further its political ambition.

Sample these two verses he wrote to counter the Tamil chauvinists ant the height of the language movement

Every language is a gem
Cut the anger out my friend
Tamil is one of them

***
Tamil is my life breath too
But I won't puff it on you
The Dravidian parties rode to power on the back of Tamil nationalism, but in their reign Tamil began losing ground.
Without learning a word of Tamil, you could complete graduate studies in the state. Gnanakoothan lampooned all this back in the 1970s.

Another important feature of his oeuvre was iconoclasm. There were no holy cows for him. Take for instance this poem on Lord Nataraja

O King of dance!
Dance your reckless jig
In your whirl let all directions rattle and roil
But ensure no harm to my bottle of oil
Until you break it
you have a place on my table

It is astonishing that this trailblazer of modern Tamil verse hasn't been given the Sahitya Akademi award. But for the Vishnupuram prize given by Tamil writer Jeyamohan's foundation, last year, Gnanakoothan would not have a single literary award in his cabinet.

The legendary Bengali writer Mahasweta Devi died the same day as Gnanakoothan. The English dailies in Chennai recorded her demise in Page One, while the news of Gnanakoothan's death was buried deep in the inside pages.

Of Tamil's many miseries, Gnanakoothan's unheralded literary life would rank pretty high.
Last Updated Mar 31, 2018, 6:34 PM IST