After BJP, CPM cosies up to Kerala Congress (M)
CPM state secretary Balakrishnan said that the party was ready for an issue-based association with KM Mani

"We won't allow NDA to take advantage of the situation," says Balakrishnan.

Mani can join us in the general strike on 2 September, CPM state secretary said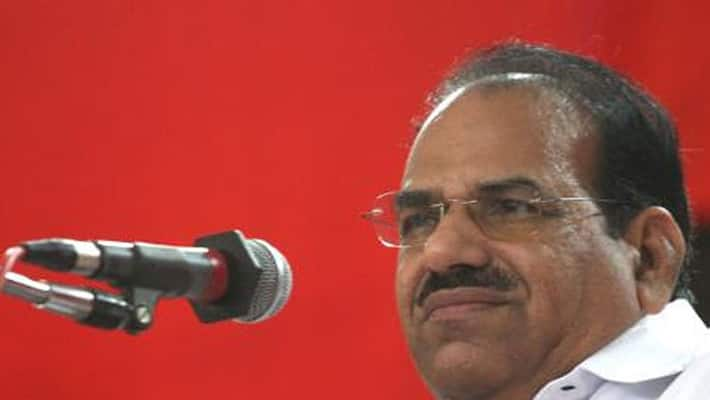 Sensing a distant possibility of the Kerala Congress-M (KCM), led by former Finance Minister KM Mani, striking an alliance with the BJP in Kerala, the Communist Party of India- Marxist (CPM) is cosying up to the party it used to oppose vehemently. The CPM has mooted an 'issue-based association' with the regional party that left the Congress-led front on Sunday. 
 
Also read: Kerala Congress-M leaves UDF camp 
 
CPM state secretary Kodiyeri Balakrishnan said that the party was ready for an issue-based cooperation with KCM. But the CPM leader quickly added that the KCM will not become part of the Left Democratic Front (LDF), at least for the time being. 
 
Also read: Who will marry Kerala Congress next? 
 
"Issue-based association does not mean that we are going to welcome the KCM into the LDF. However, we cannot predict future. The LDF is viewing this as an occasion to expand its base," Balakrishnan said during a press meet Thiruvananthapuram on Tuesday.

Also read: BJP sends feelers to Kerala Congress- M
"We welcome Mani's decision to leave the UDF and won't allow National Democratic Alliance (NDA) to take advantage of this situation. RSS is making moves to woo KCM, but the party will not be able to cooperate with the saffron party," he hoped. 
The BJP had publicly welcomed the KCM to join the NDA. There were strong rumours that the BJP had offered Jose K Mani MP, son of KM Mani, a berth in the union ministry. 
Also read:Kerala Congress (M) to keep equal distance from UDF, LDF
"The CPM and Mani have differences on many issues. We agree on many grounds as well," Balakrishnan said while inviting the KCM to join the general strike on 2 September. The CPM leader also urged other UDF partners to review their political stand and consider quitting the front.  
The CPM's latest stand is in stark contrast to its earlier position. During the previous UDF ministry, in which Mani was the Finance Minister, the CPM had organised state-wide protests alleging corruption, specifically targeting the KCM leader.  
Last Updated Mar 31, 2018, 6:56 PM IST