Hit by traffic, this man started exclusive office cab service!
Initiative to start Myofficecab was motivated by the traffic congestion
Currently, 30 IT companies use this cab service
Bhaskar, the co-founder quit his job to run this business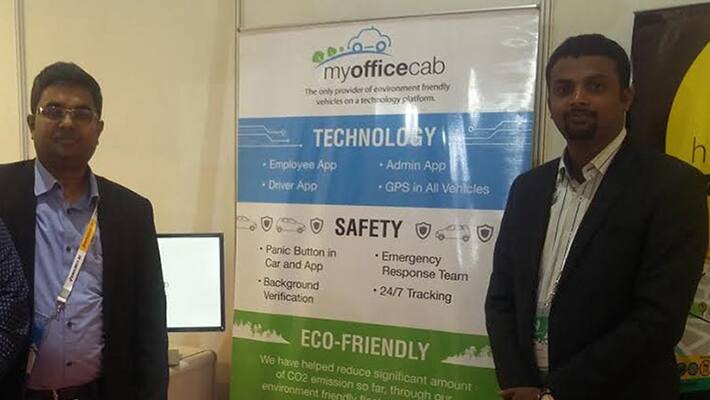 Bhaskhar C, co- founder of the initiative Myofficecab, was fed up travelling on the outer ring road at Marathalli and Whitefield where a number of IT offices are housed. After a brief deliberation, he started this own cab service and now employees from 30 IT companies use this service. A single cab is able to pick and drop four persons at a time thus helping in cut down the traffic and also in saving time.
Co-founder and CEO of the firm Bhaskar Chavda says, this idea of starting a dedicated cab service for only office-goers attached to IT firms started during a coffee break. His idea was supported by his friends Vinod Kumar, Sailesh N and Prashanth.
In 2014, Bhasker decided to quit his job and started this cab service. In one-and-a-half year, he has 30 companies attached to his cab service.
"The cab users are tracked through the GPRS technology. The safety is assured. Apart from bringing the traffic congestion down by offering cab service with our eco-friendly cabs, we contribute in saving the environment and reducing the pollution level," he said.
"The apps for employees, drivers, and admin staff of the respecive companies are provided to ensure efficient route management and live tracking," said Bhaskar.
"The background of drivers is verified as per traffic norms," he added.
Challenges
Meeting several government agencies and getting the necessary permission to set up the operations in Chennai, Hyderabad and Pune. "From large to small, we get all kinds of cabs to suit our customers needs who want travel to office without tension of driving and getting struck,"
Long term plans:
The company plans to have an association with other agencies that work in Singapore and Germany to get electric taxis. This will power the mileage as electric taxis the can run up to 200 km and can be recharged in 30 minutes.
Last Updated Mar 31, 2018, 6:33 PM IST