All you need to know about Sasikala, Jayalalithaa love-hate relationship
How penniless Sasikala became an ultimate influence on Jayalalithaa
Why did Sasikala and her entire family shift to Jayalalithaa's house?
Did Sasikala administer poison to Jayalalithaa?
With Jaya breathing her last, is Sasikala eying at her legacy?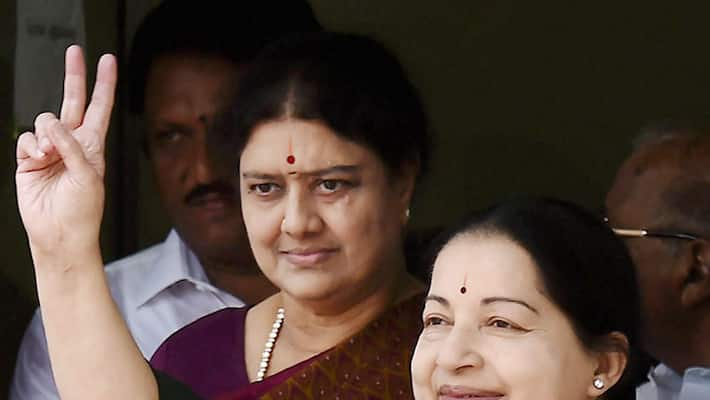 Sasikala Natarajan was a woman with ambition from Tamil Nadu. Crazy about movies and film stars, she dreamt of living the life of a star. But all her dreams were shattered when her husband lost the job, and she turned penniless.
Sasikala's husband Natarajan was working as the Public Relations Officer in the Tamil Nadu government. But he lost his job during the emergency in 1976. Sasikala had pawned all her jewellery to meet the ends. But to keep her craziness for movies alive, she ran a cassette rental shop and even had a camera.
When the couple did not have any money, Sasikala pestered her husband to ask IAS Officer and District Collector of Cuddalore V S Chandralekha to introduce her to Jayalalithaa. Natarajan who was close to Chandralekha did as his wife said.
Thus Sasikala met Jayalalithaa with a proposal of shooting a propaganda video of hers. They met more than once, and the chord just struck. They started meeting frequently, and soon MGR fell ill and was on his deathbed.
Also Read: Sasikala: The only 'constant' in Jayalalithaa's turbulent life
Jayalalithaa was the propaganda secretary AIADMK party, floated by MGR. Though not married to him, both were considered as a couple and she was much closer to MGR than his wife, Janaki.
But some members of the AIADMK hated Jayalalithaa and her interference in the politics. As soon as MGR died in 1987, the members opposed to Jayalalithaa forced Janaki to take the reins of the party. Happy to wield powers at last from Jaya, Janaki entered the politics and soon was elected the Chief Minister of Tamil Nadu.
Humiliated by the public and party workers, Jayalalithaa was completely down, when Sasikala summoned her relatives and an entire gang of 40 people from Mannargudi to make sure no harm was done to Jayalalithaa. She was always surrounded by Sasikala's men, and this created a different image as she was projected as the victim of injustice.
Also Read: Son-for-one-year: Why did Jayalalithaa disown foster son Sudhakaran?
With protection from the Mannargudi gang, Jayalalithaa took part in public campaigns won the hearts of party men and people. Jayalalithaa threw Janaki out of the post just 24 days later with a no-confidence vote.
By 1989 Jayalalithaa became the sole leader of AIADMK and was the leader of the Opposition. She and her party won the elections in 1991 and became the chief minister of Tamil Nadu for the first time.
She immensely tanked Sasikala and her gang which had by now moved into Jayalalithaa's residence and were managing all the work from driver to cook to manager.
Jaya did not give an ear to her genuine supporters who alerted her of the misappropriation of her assets by the so-called Sasikala and her Mannargudi gang.
The public criticism grew, and she lost the 1996 elections. However, AIADMK came back to power at the Centre as she supported Atal Bihari Vajpayee led NDA government. But here too Sasikala started wielding power which was not appreciated by Centre leaders Pramod Mahajan and the likes. They started ignoring Sasikala.
This following incident will tell you how powerful Sasikala was. She immediately arranged a tea party with the Congress leader Sonia Gandhi at Hotel Ashoka in Delhi in 1999. This meet was attended by Jayalalithaa, who without taking much time withdrew her support to the NDA government, which led to the Vajpayee-led government lose the no-confidence motion by one vote.
Jayalalithaa had started believing in Sasikala blindly. In fact, Sasikala started instructing her ministers on many issues. Jaya came back to power in 2003 but lost power in three years.
Their friendship was intact and the Mannargudi gang was planning to send Jayalalithaa to the jail in the disproportionate assets case in 2011 to elect Sasikala as the CM of Tamil Nadu.
Reports in India TV said that Jayalalithaa was alerted by then Gujarat chief minister Narendra Modi about the plans of Mannargudi gang led by Sasikala. At the same time, Jaya also received news from an anonymous source that Sasikala was trying to poison her.
Following this, for the first time, Jayalalithaa went for a medical test without consulting Sasikala or her team and was shocked to find that she was being fed with sedatives and chemical substances of arsenic.
This was when the relationship between Sasikala and Jayalalithaa went sour. Jaya expelled Sasikala from the party and put her Mannargudi gang behind bars.
But surprisingly, Sasikala was taken back in her party and life in 2012, and they were friends again. Sasikala had distanced herself from all her family members by then.
All throughout, it is said that the Mannargudi gang is still strong and operates with full effect. Now as the Amma is buried, the question is who will take the legacy of Jayalalithaa forward?
Will Sasikala take the reins of AIADMK or will she be banished from the party by the disappointed members of the party, is the question only time can answer.
Last Updated Mar 31, 2018, 7:07 PM IST