Rs 33,000 crore down: India's 'cheap' IT sector set to crash
President Trump hopes to implement a drastic change in the H-1B visa rules.
These rules will decimate the 'cheap' model the Indian IT sector is built on.
It is perhaps time for the Indian ITs to start innovating right here in India.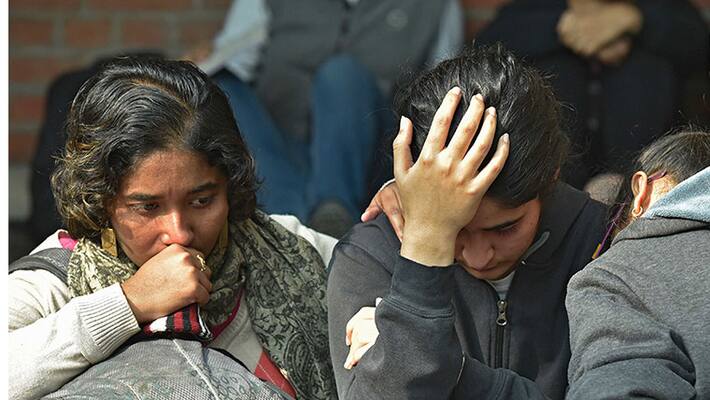 For nearly 20 years, perhaps one of the great Indian aspirations was that your child would get an 'America job'. A relatively open visa regime allowed the immigration of an estimated five lakh Indians to the United States from 1990.
The Indian IT behemoths - like Infosys and Tata Consultancy Services - also soared thanks to the 'synergy' between the American companies who wanted cheap tech support, and Indian companies, for whom the dollar-to-rupee conversion meant massive profits.
All of that is set to change now, as President Trump relentless pursues his pre-election promises of increasing jobs for Americans and cutting down immigration. His latest move is aimed squarely at the H-1B visa regime, which allowed US companies to bring in skilled workers.
And Indian companies are right on the chopping board. The US issues only 65,000 H-1B visas per year. Until August 2016, 72% of total H-1B visas issued worldwide went to Indian workers. The seven biggest Indian companies that are involved in outsourcing took 16,500 of those visas. TCS alone got 5650 visas. Infosys received 3454 while Wipro got 3048.
These visas will still be available. However, the rules might be drastically changed, almost completely uprooting the very reason why these workers were being sent from India in the first place - cheap costs.
The new rules will require the visa holder to be paid a minimum of $130,000. The previous limit was nearly half of that - at $60,000. For a sense of perspective, when converted, the new rules require the visa-holder to be paid a salary of nearly Rs 90 lakh per year.
It is important to remember that most of these workers are in America to do a certain project for an American company on behalf of an Indian company.
The difference between what that worker has to be paid to work in the US, and what the US company is paying the Indian company for his/her services is where all the big profits lie. Earlier the difference was large. The new salary rules would trim that difference drastically, removing the 'low cost' edge that pushed Indian companies to the forefront.
And that is the biggest change. There are scores of minor ones.
This shock, which honestly should not have been a surprise considering what Trump said before he was elected, decimated the Indian IT stocks. It was a dark day for companies like TechM and HCl, though nearly all businesses suffered to some degree.
The shares of TCS fell by 4.5%, Infosys by 2%, TechM by 4.2% and Wipro by some 1.6%. The total losses, regarding value lost, amounted to an estimated Rs 33,057 crore.
The glory days of the Indian IT scene, when a single job posting could change a whole village via remittances are well and truly over. They were already on their way out, but this is probably the death knell for it.
An estimated 60% of the all Indian IT business comes from the US - the main driver for the $108 billion Indian IT sector. This lack of diversification means any disruption in orders from the US would prove deadly to scores of companies, big and small.
While the giants like TCS will probably manage to slug it out, the smaller firms will find it exceptionally hard to keep going, as much of that revenue model is based on cost-cutting and cutthroat prices.
This can also be seen a fallout of an almost stubborn refusal to innovate or invent, preferring to stick to backend processes and on-site implementations of already existing ideas, rather than creating new ones.
There are already reports of various workers testing the waters back home, since many may have to return. In a small silver lining, perhaps, at last, the Indian IT sector will start creating jobs right here.
Last Updated Mar 31, 2018, 6:40 PM IST