Modi woos India with cashless society dreams
Modi called black money a disease we have been facing for the past 70 years
He asked the nation to join in making India a cashless society and to become digital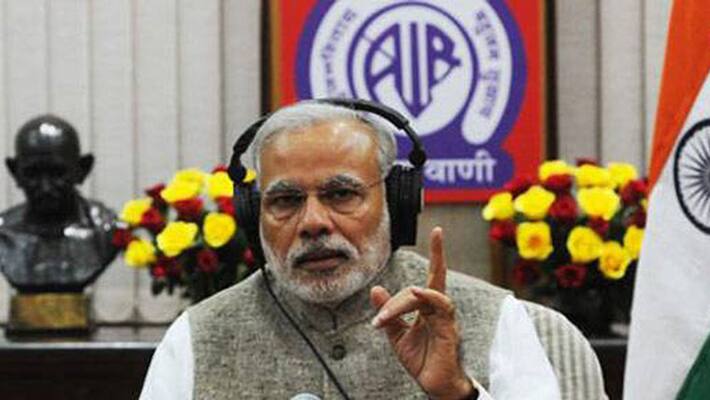 On the 26th edition of the radio show titled Mann ki Baat, Prime Minister Narendra Modi chose to speak about demonetisation extensively. His words remained quite similar to what he said a few days ago. Previously, he had said that the poor had appreciated this move the most as they can understand that once the black money is out of the system and the banks are filled with cash, they will offer cheap loans and assist in the generation of new jobs. He said that India was heading towards its golden days through this scheme.
Here are some of the highlights of the talk show:
ENCOURAGING THE YOUTH: The Prime Minster called all the youth to support him in his endeavour. While reiterating that Youth are agents of change, he asked each to bring  their families into a less cash economy by teaching various tools available. He asked the youth to teach the common man and small time business how to perform small digital financial transactions so that they too join in on the dream of a digital India.
APPLAUDING GOVERNMENT SERVANTS: The Prime Minister also appreciated the government servants especially those who work at Post Offices and banks for working hard and being dedicated through this whole demonetisation project and remarked that none of this would have possible without their and the public's cooperation for the same.  
MAKING POOR BANKABLE: There has been a 300 per cent increase in the use of Rupay card since poor people started using it; it is as simple as sending a Whatsapp. In another instance of  appealing to the poor largely, he encouraged them to open bank accounts. He also explained that he took this step for the country's poor who are suffering because of the unaccounted money floating in the country.
CASHLESS INDIA: "Our dream is a cashless society, but we can definitely take the first step towards a less-cash society," he said. Demonetisation is an opportunity for traders to move towards digital transactions and strengthen their businesses. He also announced that charges on cashless transactions would be removed. He invited everybody to move towards digital transactions, through apps and net banking.
DIGITAL INDIA: "I want to urge men and women in small businesses that the time is right, you too enter the digital world. I invite small traders to adopt cashless economy as it will bring about a huge transformation in the country.  Your mobile is an e-wallet." He encouraged farmers to learn the benefits of online banking
FOR THE CRITICS: For those who were criticising him for the inconvenience, Modi answered by saying that he had told in the beginning that the demonetisation decision is huge and it will take minimum 50 days to overcome from it. Efforts are being made to mislead the people against demonetisation move, but people are making sacrifices for a better India.
WARNING ISSUED: Don't play with lives of the poor by depositing illegal money into their accounts. Modi warned that Jan Dhan accounts were being exploited for stashing away black money.
THANK YOU: The PM congratulated the people for facing the lines and braving the difficulties in favour of a better India and a better future. He also mentioned he understood their plight but for a disease which has infected our country for 70 years, treatment can't be simple
-with agency inputs
Last Updated Mar 31, 2018, 6:36 PM IST