Demonetisation: No cash for India as new notes land in corrupt custody
Small farmers, sellers, merchants, daily wage labourers and traders struggle with having no money
Powerful people are escaping with bundles in new currency, something which half the banks in the nation claim to not have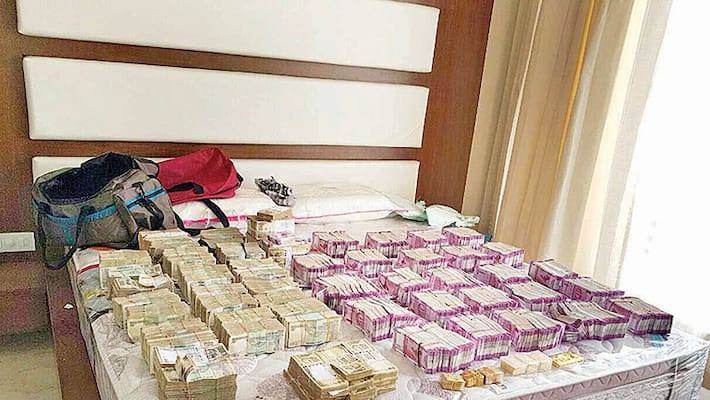 I tried to look up why Narendra Modi introduced demonetisation, article after article had these words staring at me "expose black money hoarders, stem terrorism financing, combat corruption and counterfeiting of notes". These were his targets. But why, even after a month of demonetisation, I get the feeling that all these elements have somehow found alternate means of operation while it is the middle class and the poor who have been served with the lollipop of 'purifying our country'.
Who became the actual target?
Small farmers, sellers, merchants, daily wage labourers and traders are suffering because of lack of proper planning, intelligence and foresight such as recalibration of ATM machines. Ours is a largely cash run economy.  ATMs are scarce, and few rural Indians have a credit or debit card. An estimated 600 million Indians—nearly half the country's population—are without a bank account. So who has this black money you have been going on about?
I will let these news reports do the talking:
Read: IT Raid: New currency notes worth ₹70 crore seized in Chennai
Read: In Congress-ruled Karnataka, black money flows in abundance
Read: Karnataka IT raid: ₹5.7cr in new notes seized from bathroom safe
Read: This school shows parents how to convert black money
This list could go on and on. These are just some of the new reports that have emerged post November 8 announcement of demonetisation. Majority of the links here are from South India, but no one can refute that this is also indicative of the news in North India. Even BJP ministers have been caught in the act, north and south irrespective. As I write this, there is news flashing on television of how a raid by the Income Tax officials and Delhi Police on a law firm in South Delhi's GK-I area found over ₹13 crore cash of which ₹2.5 crore was in new currency notes.
Where do you think it is all coming from?
Yes, Mr Prime Minister, if black money was one of the issues you wanted to tackle then clearly, you have a larger problem at hand. Your motto as you announced in the November 8 speech to the nation has been : Sab Ka Saath Sab Ka Vikas: We are with all citizens and for development of all citizens. Now this seems like Sab ka Saath, Kuch ka Vikas: All citizens are with you but the benefit is being taken by some. 
Also read: 5 reasons why ban will FAIL to recover black money
What do these news reports speak of? Do they mention the common man standing in the ATM or bank line having been caught with currency stashes or is it politicians, high ranking government officials, bank authorities, law firms and filthy rich businessmen? The point that needs to be noted is that half of these seized currency reserves are in the NEW CURRENCY NOTES OF ₹2000 and none of it is counterfeit. That black money in India you seek is isn't in the form of demonetised notes. It has all been converted to gold and silver, real estate and overseas bank accounts. Even if you claim victory with these IT raids and seizures, how will you catch the tax evaders? people with corrupt intentions  will simply start saving in the new bills currently being issued, and that is what is happening still.
Amounts like ₹ 5.7 crore, ₹ 3 crore may seem trivial to you but to those who have none of it, it is a gigantic amount. It has been a month since demonetisation has set in, half the country is without money, half the country is queuing up diligently to withdraw what is rightfully theirs, half the country is facing a ban on spending on their own needs, why? Because the spread of new currency is not adequate, banks are saying they do not have the cash, ATMs have not been calibrated but pray tell me where is this seized money coming from. Where are these bunches of new notes originating from?
Clearly you will say that these people being caught is a success for your scheme but tell me about the hundred others who have not been caught.
Reserve Bank of India Governor Urjit Patel had said that 19 billion new currency notes have been issued since demonetisation. Where is the 19 billion gone?
The corruption is at the source and currently there is only one source for this – Banks. Does that mean the banks are making a mockery out of us? While we are standing in line, some affluent businessman, politician, actor or highly-placed government servant can get his money turned from black to white under the banks tables and even pocket wads of new currency notes. Not to forget those board of  'No Cash' staring at our faces when we go to withdraw money.
Also read: Demonetization: Forget hoarders, India's bankers are the real traitors
Most of the black money operators have already converted their black money to white and it is only the smaller fish whom you are so happy about getting caught. Now the official who asked for bribe for ₹300 to get a file passed will now ask for ₹500 or ₹2000, since that is the highest denomination available. The very activities you sought to address will come back much bigger and blow up in your face, while we the common people will continue to wonder what went wrong. It reminds you of the 70s when all the rich had everything in India and the poor lining up for basic necessities even.
It is our corrupt mentality that we need to address first, before tearing down an economy. Corruption has always been institutional and what better example than the number of ministers and government officials being caught with the new currency notes?
Last Updated Mar 31, 2018, 7:00 PM IST