CCTV visuals confirm 'Medicity' doctors refused treatment to accident victim Murugan
Murugan, an accident victim from Tamil Nadu, died after hospitals denied treatment to him
Asianet News has the CCTV visuals from Medicity Hospital, Kollam
The doctor did not even bother to check the patient before denying treatment
Murugan succumbed to his injuries, almost eight hours after accident, on the way to the sixth hospital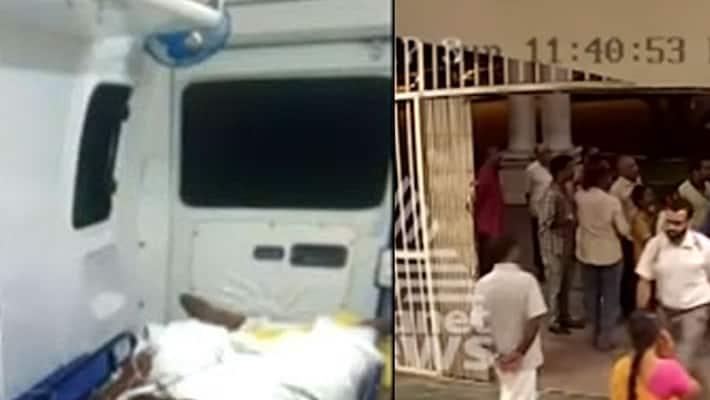 It has been three days since a Tamil Nadu native Murugan died after five major hospitals denied treatment to him. Latest visuals reveal that one of the hospitals did not even allow to take the accident victim inside the hospital. 
Asianet News got CCTV footages from Travancore Medicity Medical College, Kollam. It shows that the ambulance carrying Murugan reached the hospital at 11.30 pm on August 6. It took 10 minutes for the duty doctor, Bilal, to come out and even then he is just standing outside the ambulance, without checking the patient. The doctor informs that he cannot be admitted as the ventilator is occupied.
The ambulance returns after waiting outside the hospital for 20 minutes. Meanwhile, another ambulance reaches the premises with an accident victim who is rushed to the emergency by the same duty doctor who denied treatment to Murugan. 
Doctor Bilal later said that they denied treatment as there were no bystanders with the patient. Further, he also said that their ventilator was occupied at the time. 
Also read: Kollam: Accident victim dies after hospitals refuse treatment, case registered [Video]
Medicity was the third hospital to which Murugan was taken, and instead of giving treatment to a patient with the brain haemorrhage, the doctor referred him to Thiruvananthapuram Medical College, which is 65 km away. 
Murugan met with the accident while pillion riding on a bike. At first, he was rushed to KIMS Hospital which denied treatment stating lack of ventilator facility. Then he was taken to Meditrinia Hospital but denied admission stating there was no neurosurgeon. Medicity was the third hospital, and they referred him to Thiruvananthapuram Medical College.
As there was no ventilator facility, Murugan was taken to SUT Hospital in Thiruvananthapuram, which denied admission to the accident victim stating that there was no neurosurgeon. He was then taken to Azeezia Medical College, Kollam, which also denied admission to him. Murugan succumbed to his injuries on the way to Kollam General Hospital, at 6 am, about 8 hours after the accident. 
A case has been registered against all the hospitals, and the Chief Minister has ordered a probe into the issue.
"It is an incredibly sad news. The Health Service Director has been asked to investigate about it. The government will take further measures to make sure that no such incident takes place in future. A case has been filed against the hospitals as denial of treatment is an illegal act," the Chief Minister wrote on his Facebook. 
Last Updated Mar 31, 2018, 6:46 PM IST