Christian group in Kerala launches helpline to save 'their' girls from Muslim boys
With the Metropolitan of Malankara Orthodox Independent Syrian Church as patron, a new idea has hit a Kerala church group
The group will launch helplines in all 14 district by next week, aiming to avert love affairs between Christian girls and Muslim boys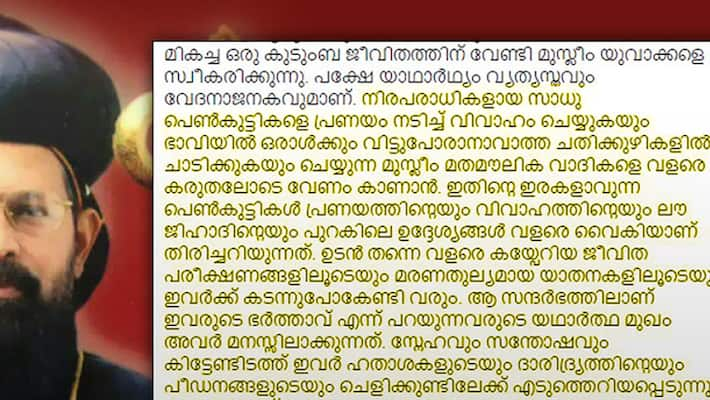 In a bid to curb increasing incidents of alleged 'love jihad', some Christian groups in Kerala are planning to start a 'helpline' in line with the one floated by Sangh Parivar. The move aims to avert love affairs between Christian girls and Muslim boys. 
What seems to have triggered the decision is the latest incident in which the Kerala High Court annulled the marriage of a Hindu girl, who converted and married a Muslim. The High Court had declared the marriage null and void, questioning the girl's mental capacity and the boy's links to the Islamic State. 
"Those who are into converting girls in the name of 'love' dared to protest against the High Court order and even called a hartal. This prompted us to do something to save girls from falling prey to so-called 'love jihad'," Renjit Abraham Thomas, the general convener of Christian helpline said. 
Interestingly, a section of Christian priests is associating with the BJP Minority Morcha wing to float the helpline. "Number of Christian girls falling prey to love jihad is less in comparison to Hindus," he said. 
Metropolitan of Malankara Orthodox Independent Syrian Church, St. Jude Dayara, Amayannoor, Kottayam, Mathews Mar Gregarious is the chief patron. A release from the Metropolitan urged Christian girls to keep away from Muslim 'fundamentalists', who, the release alleged, were pretending love to put them in big traps. 
"We are in talks with the priests of other Mar Thoma Church, and they are ready to offer support. Priests from Malappuram district were more interested," Thomas said. He also said that girls in Malappuram district are more prone to such traps. "Those studying and working in four hospitals in the area are more susceptible to traps in the name of love jihad. The extremists target girls staying as paying guests. Recent incidents point to the involvement of Muslim girls in religious conversions, but the issue is not addressed by media," he said. 
Thomas, who is also the Malappuram zone secretary of Kerala Council of Churches, consisting of 14 churches in the state, said they are associating with Hindu group under the belief that a collective move will be more effective. "We are already getting threats over Facebook and phone. We need some strong base to fight this. That's why we are associating with Hindu helpline,"  
The group will launch helplines in all 14 district by next week. It will also have two helpline numbers, exclusively for women. 
Last Updated Mar 31, 2018, 6:53 PM IST