This is not a scam: BBMP Commissioner goes all out to sell Pod Taxi
Pod taxi will be an another transport system for bridging the gap between Metro and bus service.
BBMP will not spend a single rupee on the project.
The operating company will even give money for obtaining the licence for the project.
Company that bags the contract will operate the pod taxi for 30 years and hand it over to BBMP.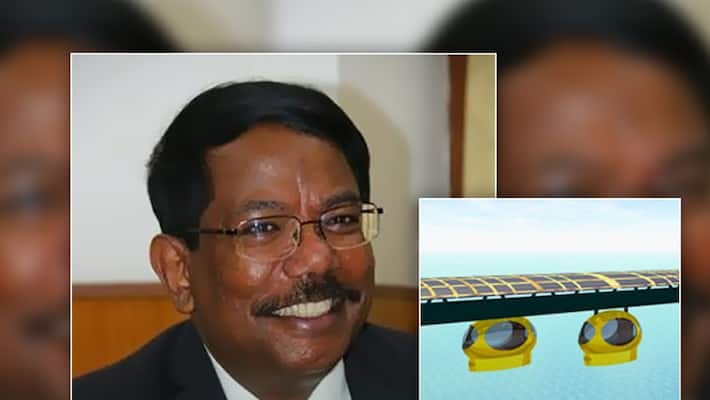 Bruhat Bengaluru Mahanagar Palike which is always under attack for  not being able to maintain the growing traffic with its faulty projects like underpass, flyover, foot-over-bridges or road repairs, is now planning to come up with Person Rapid Transit System (pod taxi).  The authorities feel that pod taxi may bring in some relief to traffic problem.
BBMP Commissioner N Manjunath Prasad in a chat with Asianet Newsable spoke about pod taxi's feasibility,  finance, safety and more.
Q: How did this idea of a 'pod taxi' come up? Do you think it is feasible?
A: Bengaluru Mahanagara Palike has the grown from 200 sq km to 800 sq km in the last two decades. Over 65 lakh vehicles are   plying on the streets  every day. The BBMP is the custodian of the roads but it is finding it difficult to deal with the increasing traffic. In this regard, along with the Metro service, the BBMP also wanted an additional public transport. Hence, the Pod Taxi was thought of. There were other options, but for the BBMP, the Pod Taxi is suitable.
Many office goers  to MG Road, Koramangala, Indiranagar and other locations nowadays take a cab service. By bringing these Pod Taxis, which can accommodate over six people, we can cut the traffic rate and give people a luxury travel feeling for at a similar rate.
Initially, we have decided to set up the facility between MG Road and Old Airport Road (near Leela Palace), from Jayanagar 4th Block to JP Nagar 6th phase, from Marathahalli to EPIP Junction and from Sony World Junction (Koramangala) to Indiranagar Metro Station.
Q: This is more of a personal transport. But Bengaluru needs mass transport. So why waste time and energy?
A: The BBMP will not be wasting any money or its energy as this project will be based on a self-finance model. A 'Design-Finance-Build-Operate and Transfer' model is being adopted by the BBMP before entering any Memorandum Of Understanding. The private players, who will bag the contract will operate the taxi for about 30 years and then give it to the BBMP. It is only a win-win situation for the BBMP as the Pod Taxi maintenance will be borne by the company that runs the service.
Q: Any project that is taken up in the BBMP and BDA is always seen as a scam, how would you defend this Pod taxi project?
It is the perception of a few people and the BBMP will not be affected - at least in my tenure.  The BBMP will not invest money and hence there is no question of using tax payers money for the project or any scam. The BBMP will get money in the form of licence fees from the firms that bag the contract. This money will be added to the civic body account.
Q: BBMP claims it won't spend a single rupee as it plans to use the road medians, which won't require new land acquisition. The roads are already narrow. Do you really think this method will work?
A: I agree that our roads are narrow. But we will use this facility on only in those locations  where it works. There is no question of any fresh land acquisition. This facility will come up only on the centre median of BBMP roads. The BBMP has nothing to lose.
Q: Why was this project not up for public consultation?
This project is environment-friendly and the BBMP will not have to cut trees. This project is safe, as it will be approved by American Society for Testing and Materials (ASTM) an international global leader in certifying Pod Taxis as safe. Since there was no public money involved, BBMP used its discretion to go ahead without any public consultation
Q: How will you meet the deadline? You say that the project will be completed in eight months. Considering the fact  BBMP is known for delaying projects, don't you think this project will also take time?
A: No, once the project starts, it will be completed in eight months. From the BBMP's side, there won't be any delays. The firms which have expressed an interest in the project are US and UK-based and they are known for executing work on time. Once the tender is allotted, the Pod Taxi will be finished in eight months time.
 Q: Some urban experts have commented...What Bangalore needs is multi-directional last-mile connectivity. The Pod taxi will have a rigid structure. How would you react to an opinion like this?
A: In foreign countries, Pod Taxi lines run along national highways. Their workplace is outside human settlement areas. So last mile connectivity applies there. But in Bengaluru, we have workplaces everywhere, and there are residential areas as well. The idea behind pod taxi was to bridge the gap between metro lines and from bus transport. This is not the only solution, but it can ease the traffic to a certain extent. Since the project is coming without any investment - BBMP has decided to go for it. Besides, it reduces traffic and air pollution.
Q: Another criticism is that Bengaluru is no Disneyland. Mumbai's Mono Rail failed. They are not able to plan the second phase of expanding the network. Your take on this?
A: A team of experts from the BBMP Projects Division have examined the project. I also have gone through the concept. I cannot answer for the failure of Mumbai's Mono Rail project. We are not rushing with the project all over Bengaluru. We will be starting only in few places where traffic density is high.
Q: Pod taxis have been used in amusement parks and airport terminals globally. Nowhere has it served as a mass-transit or last-mile connectivity mode. How will you make this work?
A: Yes, it is not a mass transit, but there are options to extending the seating capacity to 20 people in one taxi.
The BBMP can also opt for a wheel-mounted pod taxi service using the same facility. Similar to the elevated metro pillars, small structures will be put on the same median, and the taxi can be mounted. In all locations, we hope to cover 15,000 passengers in one hour.
Q: Pod taxis were first planned for Gurugram. The Rs 850 crore project was terminated due to poor response. Do you think you will be able to bring world-class companies to Bengaluru's infrastructure?
A: We already have three companies chipping in with their files.  US-based Jpods, US-based Sky Tran, and another company from the UK have already expressed interest in participating in the tender. In other places, it may not have worked, but Bengaluru being a city of opportunities for every business, this Pod Taxi will click.
Q: The project will cost Rs 50 crore per km. Don't you think there are cheaper alternatives? Or that you should focus on bigger priorities like prevention of flooding or good roads?
A: As I told you earlier, the Rs 50 crore per km estimation was for the project, but it will not be a financial burden on the BBMP as the participating companies will be financing the whole project and they will only execute.
About flooding in Bengaluru, the BBMP has taken up stormwater drain restoration work that will take all the water into lakes and valleys.  The BBMP also had allocated budget for the road asphalting and repair work. Once the monsoon is over, the work will be done on a war footing.
Q: Do you think you have a well-qualified team to even understand the complexities involving this kind of technical bids?
A: Yes! The BBMP has good engineers who know about such complexities really well. The BBMP also has taken help from experts in the field and only then agreed to go on for Pod Taxi
Q: As the fares are going to be cheaper, don't you think auto and cab drivers will protest?
A: The BBMP has not yet decided on rates but it is contemplating telling operating companies to charge a nominal fee. What a person pays to cab or taxis like Uber and Ola for the same distance can be charged in the Pod Taxi. Regarding protests, even when metro service was being planned, there
Last Updated Mar 31, 2018, 6:39 PM IST