Karnataka sex workers' slam recommendations of Jayamala committee
Karnataka in 2015 had formed a committee headed by Jayamala, a former actress-turned-politician.
To study the situation of Sex workers.
The sex workers' now have slammed the recommendations of the committee as 'shabby.'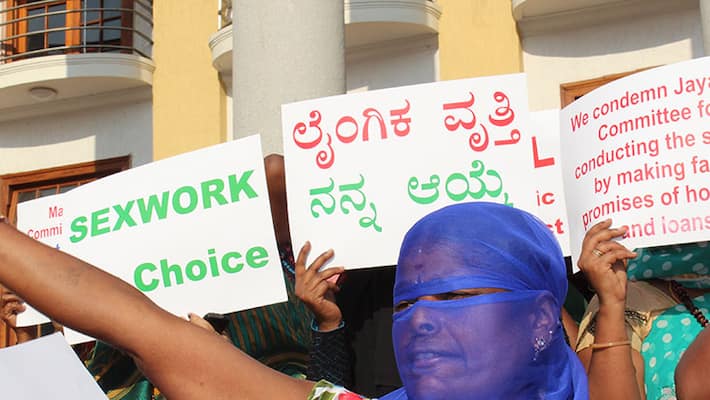 The union alleged that the survey was conducted by offering false promises of free housing and loans. In reality, the "shabby" report, jeopardises the privacy and safety of the workers.
The Government of Karnataka in 2015 had formed a committee headed by Jayamala, a former actress-turned-politician, to study the situation of Sex workers in the state. In the 22 member committee, only three members are Sex workers. 

Nisha Gulur, president of National Network of Sex Workers (NNSW) and the Treasurer of Karnataka Sex Workers Union said "After the consultation, in a meeting with the chairperson of the Jayamala committee, we shared the shortcomings of the survey and requested for a consultation with Sex workers organisations before submitting the report.
In spite of which the committee submitted this shabby report to the government."
"After the submission of this report to the government, a few newspapers had published a recommendation in the report that hereafter the usage of the term 'Sex workers' is to be banned and instead they should be referred as 'Oppressed.
' Who are they to label Sex workers as sexually exploited women?" she added.
The report prepared by the committee is titled Laingika Daurjanyakke Olagaada Samudaaya Mahileyara Sthithigathi Adhyayana (Status Report of Women Who Have Encountered Sexual Violence). The sex workers' union now want the government to withdraw the recommendations and conduct a proper survey.
Last Updated Mar 31, 2018, 6:44 PM IST